From One Techie to Another
I hope everyone had a nice Memorial Day weekend. Of course it rained all weekend up here in Minnesota, but that's typical for us on this first holiday weekend of the summer.
Our friends over at I/Gear introduced me to an interesting new technology and product called a Data Transport Utility (DTU). I/Gear was actually started by Advanced Production Systems(APS), a systems integrator focused on the e-manufacturing extension of business-to-business e-commerce. While integrating numerous systems, APS found the need for a standard software product that could connect various technologies and applications, from the plant floor to enterprise systems. Whether you are a manufacturing end user or a systems integrator, I think you'll want to check out this technology and product. Without further a due...
Our guest article this week, Data Transport Utility (DTU): An Introduction and Overview, was written by Don Korfhage of I/Gear. The article provides a general overview of an evolving market defined as the Data Transport Utility (DTU) market. It also provides an overview of how this technology could be applied in various manufacturing applications. You can link to the complete article from the Featured Article section below. Along with this article, we are also highlighting their DTU product and evaluation CD in this issue.
And, as usual, don't forget to review the News and Job Postings added to our site in the last week.
On to the good stuff...Enjoy the rest of this e-news!
Subscription Referral Promotion
Between now and June 30, 2004, we are running a subscription referral promotion. Here's how it works...Refer five colleagues to subscribe to our web site and your name will go in a drawing for the $500 gift certificate from www.webcertificate.com. This gift certificate functions just like a MasterCard and can be used anywhere MasterCard is accepted on the Web.
Enter as many times as you like. But, for each entry you will be required to submit the 5 e-mail addresses of colleagues that have subscribed during the promotion period. And yes, the colleagues must be industrial automation, process control or instrumentation professionals (we'll verify them).
The following link is where your colleagues can subscribe:
http://www.automation.com/jobs/default.php?page=add
To get your name entered in the drawing for the $500.00 certificate, you must complete and submit the following simple form:
http://www.automation.com/sitepages/pid1570.php
Featured Article
Data Transport Utility (DTU): An Introduction and Overview
Most control engineers and system analysts are faced with the challenge of ensuring product quality and lowering manufacturing costs. This challenge is complicated by a number of issues. Data Transport Utility (DTU) is an emerging technology that provides a backbone or infrastructure for building solutions in a seamless fashion, integrating best-of-class technologies with existing systems, while at the same time cutting development and support costs dramatically.
Read full article by Don Korfhage of I/Gear.
Other articles and white papers on various automation topics
Other application stories using various automation products
Automation & Process Control News
News Headlines - Automation, Process Control & Instrumentation News
Hear all about it! We publish industry news on our site as soon as we hear about it. Check out our Daily News Headlines page frequently to stay up-to-date on the industry events. Here are news headlines since our last e-news. Use the following links to read the complete news release:
These are just a few of the news items published on our website. Our Automation News section provides you up-to-date news of what is happening with product and services suppliers in the industry. Users can search for releases by company or by date. View Daily News Headlines Here. Send your automation news releases to press@automationtechies.com. Please provide press releases in electronic format (pictures can be provided in .JPG or .GIF format).
Application Tools, Guides, Demos & Literature
Data Transport Utility (DTU) Software Evaluation CD
I/Gear DTU enables every application and technology in a manufacturing operation to operate as if they were designed to work together from the very beginning. DTU interfaces seamlessly with PLCs, databases, spreadsheets, email/paging systems, barcode scanners, printers, marquee displays, torque controllers, weigh scales, HMIs, temperature zone controllers, plus many other serial, TCP, and OPC compliant devices. This is all done with unsurpassed ease and cost effectiveness. DTU is dedicated to quick, open, and reliable data transport, with no bias towards brands, models, or types of systems in place. Compared to custom software code, it is more cost effective to deploy, maintain, and expand. Hardware and configuration changes can be made with minimal impact on other parts of the data transport infrastructure, and it can be modified while running.
Request Your Free Evaluation CD of I/Gear DTU
Other available application tools.
Other available demo software.
Other available product catalogs.
Product Showcase
Siemens SIMATIC WinCC flexible single HMI configuration software for text displays through PCs.
More Information on Siemens WinCC
I/Gear's Data Transport Utility (DTU) provides an infrastructure for seamlessly connecting technologies and applications.
More Information on I/Gear's Data Transport Utility
Other Featured Products for June
New Jobs Posted on Automationtechies.com
Here's a list of new job opportunities posted on Automationtechies.com since our last newsletter:
To view other recent job postings, please use our Job Search Function.
Training & Seminars
Understanding & Troubleshooting DeviceNet Communications
This thirty-six hour, hands-on course will enable participants to understand and troubleshoot the DeviceNet Communications product. This course is designed for individuals engaged in the installation, programming and maintenance of the DeviceNet Communications product. The basis for this link is the CAN (Controller Area Network).
More Information on DeviceNet Communications Course
Other Training Courses & Seminars
Browse for training courses, seminars, web-seminars and workshops offered by various training organizations, product manufacturers and suppliers in industrial automation, process control and instrumentation. For information on specific training courses and seminars, please use the following links:
Trade Publications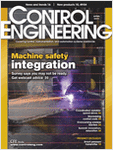 Qualify for Your Free Subscription!
Covering control, instrumentation, & automation systems worldwide.
Control Engineering's mission is to be the voice of the global control, instrumentation, and automation marketplace, providing more total information on products, news, and trends than any other source in the field.
Geographic Eligibility: USA
Publisher: Reed Business Information
Subscribe to Control Engineering Magazine
Other Free Trade Publication Subscriptions
As a valued Automationtechies.com member, we would like to extend the opportunity to receive leading industry publications.
Browse from the list of titles and be sure to check back often for new titles.
Automation Auctions
eBay hosts over 4000 auctions for industrial automation and control products. From PLCs to sensors and from motor controls to robotics...Now you can browse new, used and surplus automation and control products right from Automationtechies.com. We added a new page in the "Classifieds" section of our web site called eBay Listings.
Use the links below to browse auctions and classified ads by product category:
On a Humorous Note...
So that's how companies pay for those expensive product recalls
Automationtechies' Services
Automationtechies.com Advertising Opportunities - Generate leads and promote your company and products with one of the fastest growing industrial automation and control communities on the web. Review our Media Kit or Contact Rick Zabel.
Article & White Paper Publication - To have your industry-related articles or white papers published on Automationtechies.com, please Contact Rick Zabel for more information.
News Release Publication - To have your company or product news published on Automationtechies.com, please send your press releases to press@automationtechies.com.
Job Posting - Post your job openings on Automationtechies.com and find out why we're the industry's preferred resource for posting automation, process control and instrumentation job opportunities. Post Your Job.
Direct-hire Recruiting - Our industry experts will seek out and pre-screen the top performers. If your resources are limited or if time is a factor, we'll find the talent you need. Contact Alan Carty today for more information at 1-877-300-6792 or Send a message
Contract Recruiting, Employer of Record Services - Need engineers, programmers, or technicians, but can't hire full-time employees? Consider contract employees! Let us handle your administrative headaches including Employer of Record, payroll, and other functions. Find a Contract Employee
- What kind of articles would you like to see?
- What content additions would you like to see on our website?
- What would you like to know about other members?
- Suggest a new poll question.
- Are there any other services you think we should offer?
I would like to hear from you. Send me a message.
I hope you enjoyed this e-news update!
Rick Zabel
Vice President
6455 City West Parkway
Eden Prairie, MN 55344
Phone: 952-563-5444
Fax: 952-563-5449