View this Automationtechies.com e-News online at http://www.automation.com/enews/2004-06-30.htm
Home | About Us | Media Kit | Contact Us
e-News
Daily News Headlines | Product Showcase | Suppliers/Manufacturers | Systems Integrators | Resources & Tools | Career & Job Center | Classifieds | Events
June 30, 2004 - Volume V, Issue 24
(Published almost every week)
*Please forward this e-news to a colleague *Subscribe to future issues *Read past issues
In this Issue
Our Sponsor
National Instruments FREE 2004 Measurement and Automation Catalog
The National Instruments catalog is the leading virtual instrumentation resource for engineers and scientists seeking the most productive customer-defined software and hardware tools. You will find everything you need from product specifications to comprehensive tutorials.
Article: Accessing Databases Using OPC
Evaluation CD: CitectSCADA Free Trial CD
Training: Fundamentals of OPC (OLE for Process Control)
Training: TCP/IP and Ethernet Networking
Free Subscription: Control Design Magazine
Our featured article this week, Accessing Databases Using OPC, was provided by Matrikon and introduces a technology that OPC can leverage to access real-time data from databases.
Our training partner, IDC Technologies, has just released a new US schedule for three of their courses relating to Data Communications, Networking and OPC. If your interested, please check out the links below for more information. Or, you can even register for these courses using our Online Registration Form.
Check out this week's sponsor, National Instruments, and be sure to request their catalog of productive hardware and software tools. We're also featuring CitectSCADA Free Trial CD so if you're interested in evaluating Citect's popular SCADA software, just use the form to request your CD.
And, as usual, don't forget to review the Product Announcements, Company News and Job Postings added to our site in the last week.
On to the good stuff...Enjoy the rest of this e-news!
Oh, since next week is the 4th of July Holiday, we won't be sending out an e-news but we will be adding announcements to the site. Look for the next e-news issue on July 14th.
Subscription Referral Promotion
Between now and June 30, 2004, we are running a subscription referral promotion. Here's how it works...Refer five colleagues to subscribe to our web site and your name will go in a drawing for the $500 gift certificate from www.webcertificate.com. This gift certificate functions just like a MasterCard and can be used anywhere MasterCard is accepted on the Web.
Enter as many times as you like. But, for each entry you will be required to submit the 5 e-mail addresses of colleagues that have subscribed during the promotion period. And yes, the colleagues must be industrial automation, process control or instrumentation professionals (we'll verify them).
The following link is where your colleagues can subscribe:
http://www.automation.com/jobs/default.php?page=add
To get your name entered in the drawing for the $500.00 certificate, you must complete and submit the following simple form:
http://www.automation.com/sitepages/pid1570.php
Featured Articles
In any industry, databases are the foundation of many automation applications. Databases are consistently used as a gateway to interface with the outside world, whether to a process optimization application, Computer Maintenance Management System (CMMS), composition analyzer, or a custom, in-house application. Widespread industry acceptance of OPC has made it necessary for many organizations to convert archived data to real-time data and vice-versa. OPC can take advantage of real-time values from what once was a relational database by using Generic Database Access (GDA) technology.
Read full article by Matrikon.
Other articles and white papers on various automation topics
Other application stories using various automation products
News Headlines - Automation, Process Control & Instrumentation News
Hear all about it! We publish industry news on our site as soon as we hear about it. Check out our Daily News Headlines page frequently to stay up-to-date on the industry events. Here are news headlines since our last e-news. Use the following links to read the complete news release:
These are just a few of the news items published on our website. Our Automation News section provides you up-to-date news of what is happening with product and services suppliers in the industry. Users can search for releases by company or by date. View Daily News Headlines Here. Send your automation news releases to press@automationtechies.com. Please provide press releases in electronic format (pictures can be provided in .JPG or .GIF format).
Application Tools, Guides, Demos & Literature
Citect's SCADA offering is one of the world's leading industrial automation software packages, renowned for its reliability and flexibility. Used in a wide range of industries, CitectSCADA software enables you to increase your return on assets by delivering highly scalable, reliable control and monitoring systems to reduce operating costs, improve productivity and product quality. Easy-to-use configuration tools and powerful features enable you to quickly develop and deploy solutions for any size application.
Citect continues to invest significant R&D into its SCADA product line to ensure it remains an industrial automation software leader. As a result, our HMI / SCADA manufacturing automation systems are the preferred choice for many successful global manufacturers. We count among our customers, Alcoa, General Motors, NASA, Urenco, Baoshan Steel, BHP Billiton, Pratt & Whitney, BP Solar, WMC Resources, BMW, Nestle;, Mars Confectionery and Shell Oil, to name but a few.
Request your FREE CitectSCADA Trial CD today!
Other available application tools.
Other available demo software.
Other available product catalogs.
National Instruments Digital & Timing I/O offers reliable features for automation applications.
More Information on NI Digital & Timing I/O
Advantech's industrial 15" LCD Flat Panel Monitor at a commercial-grade price.
More Information on Advantech Industrial Monitors
ASI's Control Relays are one of the smallest packages on the market with 4 pole, NO and NC contacts.
More Information on ASI Control Relays
Other Featured Products for June
New Jobs Posted on Automationtechies.com
Here's a list of new job opportunities posted on Automationtechies.com since our last newsletter:
To view other recent job postings, please use our Job Search Function.
Training & Seminars
Industrial Data Communications & Networking
You will learn how to design, specify and troubleshoot data communications systems in the instrumentation and control environments. This workshop gives you a solid grounding in the fundamentals of RS-232, RS-422, RS-485, industrial protocols and industrial networks, enabling you to work in these areas with confidence.
Philadelphia - 26 & 27 July 2004

Phoenix - 2 & 3 August 2004

Minneapolis - 9 & 10 August 2004

Milwaukee - 13 & 14 September 2004

Los Angeles - 20 & 21 September 2004

Atlanta - 18 & 19 October 2004

Dallas - 25 & 26 October 2004

Denver - 1 & 2 November 2004

Columbus - 6 & 7 December 2004

Seattle - 13 & 14 December 2004
More information on this course
Fundamentals of OPC (OLE for Process Control)
If you are using any form of automation or communication system or you are applying PCs/PLCs/SCADA Systems, then this workshop will give you the essential tools in working with OPC. If you are serious about reducing your costs of installing and maintaining your automation systems you need to use OPC. The latest trends and future developments with OPC in the USA and Europe will be detailed.
Philadelphia - 28 July 2004

Phoenix - 4 August 2004

Milwaukee - 15 September 2004

Los Angeles - 22 September 2004

Atlanta - 20 October 2004

Dallas - 27 October 2004

Denver - 3 November 2004

Columbus - 8 December 2004

Seattle - 15 December 2004
More information on this course
TCP/IP and Ethernet Networking
Back by popular demand this 2 day workshop is designed to give you a fundamental grounding in TCP/IP and Industrial Ethernet as applied to your business. This intensive workshop has 10 practical sessions to give you a practical toolbox of skills that you can immediately apply to your work.
Philadelphia - 29 & 30 July 2004

Phoenix - 5 & 6 August 2004

Milwaukee - 16 & 17 September 2004

Los Angeles - 23 & 24 September 2004

Atlanta - 21 & 22 October 2004

Dallas - 28 & 29 October 2004

Denver - 4 & 5 November 2004

Columbus - 9 & 10 December 2004

Seattle - 16 & 17 December 2004
More information on this course
Other Training Courses & Seminars
Browse for training courses, seminars, web-seminars and workshops offered by various training organizations, product manufacturers and suppliers in industrial automation, process control and instrumentation. For information on specific training courses and seminars, please use the following links:
Trade Publications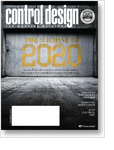 Qualify for Your Free Subscription!
Delivers twice the reach of any alternative marketing channel, in an editorial environment filled with articles of importance to the machine builder professional.
Control Design stands alone as the only magazine dedicated to the automation information needs of industrial machine builders, those original equipment manufacturers (OEMs) that build the machines that make industry work.
Geographic Eligibility: USA
Publisher: Putman Media
Other Free Trade Publication Subscriptions
As a valued Automationtechies.com member, we would like to extend the opportunity to receive leading industry publications.
Browse from the list of titles and be sure to check back often for new titles.
Automation Auctions
eBay hosts over 4000 auctions for industrial automation and control products. From PLCs to sensors and from motor controls to robotics...Now you can browse new, used and surplus automation and control products right from Automationtechies.com. We added a new page in the "Classifieds" section of our web site called eBay Listings.
Use the links below to browse auctions and classified ads by product category:
On a Humorous Note...
What not to say at a job interview
Automationtechies.com Advertising Opportunities - Generate leads and promote your company and products with one of the fastest growing industrial automation and control communities on the web. Review our Media Kit or Contact Rick Zabel.
Article & White Paper Publication - To have your industry-related articles or white papers published on Automationtechies.com, please Contact Rick Zabel for more information.
News Release Publication - To have your company or product news published on Automationtechies.com, please send your press releases to press@automationtechies.com.
Job Posting - Post your job openings on Automationtechies.com and find out why we're the industry's preferred resource for posting automation, process control and instrumentation job opportunities. Post Your Job.
Direct-hire Recruiting - Our industry experts will seek out and pre-screen the top performers. If your resources are limited or if time is a factor, we'll find the talent you need. Contact Alan Carty today for more information at 1-877-300-6792 or Send a message
Contract Recruiting, Employer of Record Services - Need engineers, programmers, or technicians, but can't hire full-time employees? Consider contract employees! Let us handle your administrative headaches including Employer of Record, payroll, and other functions. Find a Contract Employee
- What kind of articles would you like to see?
- What content additions would you like to see on our website?
- What would you like to know about other members?
- Suggest a new poll question.
- Are there any other services you think we should offer?
I would like to hear from you. Send me a message.
I hope you enjoyed this e-news update!
Rick Zabel
Vice President
6455 City West Parkway
Eden Prairie, MN 55344
Phone: 952-563-5444
Fax: 952-563-5449