View this Automationtechies.com e-News online at http://www.automation.com/enews/2004-07-14.htm
Home | About Us | Media Kit | Contact Us
e-News
Daily News Headlines | Product Showcase | Suppliers/Manufacturers | Systems Integrators | Resources & Tools | Career & Job Center | Classifieds | Events
July 14, 2004 - Volume V, Issue 25
(Published almost every week)
*Please forward this e-news to a colleague *Subscribe to future issues *Read past issues
In this Issue
Our Sponsor
Introduction: From One Techie to Another
Featured Article: How to Control a Process With Long Dead Time
Evaluation CD: Open Architecture PLC Selection Guide
Featured Products: LabVIEW 7.1 | DirectLOGIC 06 PLC | Ethernet Managed Switch
Featured Jobs: New Job Opportunities
Training: Machine Vision Training Seminars
Free Subscription: Machine Design Magazine
For Sale: New Auctions & Classifieds
Fun Stuff: Dilbert Pick of the Week
Our featured article this week, How to Control a Process with a Long Dead Time, was written and provided by John Gerry of Expertune. Over the past couple of years, John has contributed a series of articles on the topic of PID/Process Tuning. This article discusses the challenge of controlling a process with a large dead time, and provides the best method of control for such processes. You can also read John's previous articles in the Resources & Tools section of our site, under Articles and White Papers --> PID Tuning / Loop Tuning.
Check out this week's sponsor (above right), SIXNET, and be sure to request their CD containing product information (controllers, I/O, switches and modems), manuals, data sheets and software tools. We're also featuring an Open Architecture PLC Selection Guide offered by SoftPLC, so if you're interested in looking at other competitive PLC alternatives, just use the form to request your guide.
And, as usual, don't forget to review the Product Announcements, Company News and Job Postings added to our site in the last week.
Remember that subscription referral promotion that we ran between May 19th and June 30, 2004? Unfortunately we only had a handful of participants and none of them submitted five e-mail addresses of colleagues that had subscribed to our site during the promotion period. Go figure! We tried to give away $500, but it seems no one was really all that interested. So what's the deal? Are you all TOO busy? Or are you already coasting through the summer? I guess I'll have to come up with another promotion that works better. Or, maybe we should try it again just before Christmas when everyone can use a little extra cash. If you have any good suggestions, please feel free to send me a message.
On to the good stuff...Enjoy the rest of this e-news!
Featured Articles
How to Control a Process With Long Dead Time
A process with a large dead time presents a special challenge for a controller - any controller. In a dead time process, the controller makes a change, then waits, waits, waits until the dead time has passed. Finally the controller finds out how its change effected the process variable. It is like trying to drive a car blindfolded with the passenger telling you what to do. You will need to go very slowly. Find out how to get the best control of large dead time processes.
Read full article by John Gerry of ExperTune.
Other articles and white papers on various automation topics
Other application stories using various automation products
News Headlines - Automation, Process Control & Instrumentation News
Hear all about it! We publish industry news on our site as soon as we hear about it. Check out our Daily News Headlines page frequently to stay up-to-date on the industry events. Here are news headlines since our last e-news. Use the following links to read the complete news release:
These are just a few of the news items published on our website. Our Automation News section provides you up-to-date news of what is happening with product and services suppliers in the industry. Users can search for releases by company or by date. View Daily News Headlines Here. Send your automation news releases to press@automationtechies.com. Please provide press releases in electronic format (pictures can be provided in .JPG or .GIF format).
Application Tools, Guides, Demos & Literature
Open Architecture PLC Selection Guide
SoftPLC Corporation, as a specialist in PLC controls, offers this PLC selection guide. Whether a simple machine controller or a sophisticated, integrated factory automation system is required, SoftPLC's open architecture systems can meet your control application needs.
Other available application tools.
Other available demo software.
Other available product catalogs.
National Instruments LabVIEW 7.1 extends Express technology to a broad spectrum of I/O hardware.
More Information on NI LabVIEW 7.1
AutomationDirect DirectLOGIC 06 PLC combines 20 inputs, 16 outputs & four option card slots in one package.
More Information on AutomationDirect DL06 PLC
Finally, a truly industrial Ethernet Managed Switch from SIXNET!
More Information on SIXNET Ethernet Managed Switch
Other Featured Products for July
New Jobs Posted on Automationtechies.com
Here's a list of new job opportunities posted on Automationtechies.com since our last newsletter:
To view other recent job postings, please use our Job Search Function.
Training & Seminars
Machine Vision Training Seminars
Learn basic techniques, as well as considerations and advanced tips for machine vision applications with National Instruments Web Events on Demand. Watch industry experts from Basler Vision Technologies, Edmund Industrial Optics, Graftek Imaging, Indigo Systems, and National Instruments present on lighting and optics, cameras, frame grabbers, vision systems, and software options as they relate to your assembly, packaging, and scientific imaging applications.
Other Training Courses & Seminars
Browse for training courses, seminars, web-seminars and workshops offered by various training organizations, product manufacturers and suppliers in industrial automation, process control and instrumentation. For information on specific training courses and seminars, please use the following links:
Trade Publications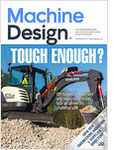 Qualify for Your Free Subscription!
Machine Design, the only magazine of applied technology, serves design engineers in the original equipment manufacturer, process and consulting industries. It provides design engineers with information on new technologies, industrial developments, research and development activities, products, and engineering procedures for designing manufactured products. Articles concentrate on practical applications, new developments and solutions to design problems.
Geographic Eligibility: USA
Publisher: Penton Media
Other Free Trade Publication Subscriptions
As a valued Automationtechies.com member, we would like to extend the opportunity to receive leading industry publications.
Browse from the list of titles and be sure to check back often for new titles.
Automation Auctions
eBay hosts over 4000 auctions for industrial automation and control products. From PLCs to sensors and from motor controls to robotics...Now you can browse new, used and surplus automation and control products right from Automationtechies.com. We added a new page in the "Classifieds" section of our web site called eBay Listings.
Use the links below to browse auctions and classified ads by product category:
On a Humorous Note...
How to stifle good suggestions from your staff
Automationtechies.com Advertising Opportunities - Generate leads and promote your company and products with one of the fastest growing industrial automation and control communities on the web. Review our Media Kit or Contact Rick Zabel.
Article & White Paper Publication - To have your industry-related articles or white papers published on Automationtechies.com, please Contact Rick Zabel for more information.
News Release Publication - To have your company or product news published on Automationtechies.com, please send your press releases to press@automationtechies.com.
Job Posting - Post your job openings on Automationtechies.com and find out why we're the industry's preferred resource for posting automation, process control and instrumentation job opportunities. Post Your Job.
Direct-hire Recruiting - Our industry experts will seek out and pre-screen the top performers. If your resources are limited or if time is a factor, we'll find the talent you need. Contact Alan Carty today for more information at 1-877-300-6792 or Send a message
Contract Recruiting, Employer of Record Services - Need engineers, programmers, or technicians, but can't hire full-time employees? Consider contract employees! Let us handle your administrative headaches including Employer of Record, payroll, and other functions. Find a Contract Employee
- What kind of articles would you like to see?
- What content additions would you like to see on our website?
- What would you like to know about other members?
- Suggest a new poll question.
- Are there any other services you think we should offer?
I would like to hear from you. Send me a message.
I hope you enjoyed this e-news update!
Rick Zabel
Vice President
6455 City West Parkway
Eden Prairie, MN 55344
Phone: 952-563-5444
Fax: 952-563-5449