Introduction: From One Techie to Another
Compact Ethernet I/O with Abundant I/O to do the Complete Job
ET-MIX24880-D
- High Density I/O for Direct Ethernet or RS485 Connections
- 24 discrete inputs and/or 8 discrete outputs
- 8 analog inputs with 16 bit A/D for precision measurements
- Direct Ethernet and RS485 Modbus
- High density design saves space and cost
- True hot swap of modules in live systems

Request a FREE CD (just updated July '04) with complete product information at: www.sixnetio.com
Our featured article this week, Vehicle Operator Safety: The Advantages of Using Electronic Sensors in Off-road Vehicles, was written by ifm efector. It's an interesting article about how industrial sensors, similar to those used in factory automation applications, are used on off-road vehicles. The article explains three different sensing technologies and how they are applied to help make off-road vehicles safe for operators.
In this issue, we're also featuring the Industrial Control & Data Acquisition Resource CD, just updated last month with the latest and great solutions offered by SIXNET.
Well, it's another new month (I can't believe it's August already), so we've also updated our Featured Products. In this issue, we're featuring the PROFINET Products offered by Siemens along with National Instruments' new version of LabVIEW.
One of our training partners, IDC Technologies, is offering a workshop on TCP/IP & Ethernet Networking. Check out the information below for workshop locations, dates, and cost.
And, as usual, don't forget to review the Product Announcements, Company News and Job Postings added to our site in the last week.
On to the good stuff...Enjoy the rest of this e-news!
Featured Article
Vehicle Operator Safety: The Advantages of Using Electronic Sensors in Off-road Vehicles
As virtual "plants-on-wheels," off-road vehicles are exposed to extreme shock and vibration, harsh chemicals, dirt and electrical interference. In industries such as construction, agriculture and forestry, vehicles must navigate on uneven surfaces while lifting and moving heavy loads. For vehicle operators, the chances of tipping or rolling over are high, and safety is a concern. This white paper will describe the advantages of using three distinct sensor types in off-road vehicles to improve operator safety.
Read full article by ifm efector, inc.
Other articles and white papers on various automation topics
Other application stories using various automation products
News
News Headlines in Automation, Process Control & Instrumentation
Hear all about it! We publish industry news on our site as soon as we hear about it. Check out our Daily News Headlines page frequently to stay up-to-date on the industry events. Here are news headlines since our last e-news. Use the following links to read the complete news release:
These are just a few of the news items published on our website. Our Automation News section provides you up-to-date news of what is happening with product and services suppliers in the industry. Users can search for releases by company or by date. View Daily News Headlines Here. Send your automation news releases to press@automationtechies.com. Please provide press releases in electronic format (pictures can be provided in .JPG or .GIF format).
Application Tools, Guides, Demos & Literature
Industrial Control & Data Acquisition Resource CD
Just updated in July 2004, SIXNET's FREE CD is a great tool for any industrial control professional's arsenal. The CD contains time-saving application suggestions and technical notes, detailed datasheets and user manuals, product demos, and useful software tools. SIXNET's Industrial Ethernet and Data Acquisition product line features:
LINUX IPm Products, including the SixTRAK IPm Open DCS Controller and the VersaTRAK IPm RTU.

Real-Time Ethernet Switches for harsh industrial environments.

Industrial Modems and Process Quality I/O.
This CD is your best resource for LINUX Open Control!
Request your SIXNET Industrial Control & DAQ CD
Other available application tools
Other available product catalogs
PROFINET Gains Momentum with Siemens Expanded SIMATIC PLC & I/O Product Portfolio.
More Information on Siemens PROFINET Products
National Instruments LabVIEW 7.1 extends Express technology to a broad spectrum of I/O hardware.
More Information on NI LabVIEW 7.1
Other Featured Products for August
New Jobs Posted on Automationtechies.com
Here's a list of new job opportunities posted on Automationtechies.com since our last newsletter:
To view other recent job postings, please use our Job Search Function.
Training & Seminars
TCP/IP and Ethernet Networking Workshop
Back by popular demand this 2 day workshop is designed to give you a fundamental grounding in TCP/IP and Industrial Ethernet as applied to your business. This intensive workshop has 10 practical sessions to give you a practical toolbox of skills that you can immediately apply to your work. The cost for this two-day workshop is $915.00 US. See below for cities and dates.
You will learn to:
Construct a robust TCP/IP based network

Troubleshoot TCP/IP networks

Operate and maintain a robust network

Set up a simple firewall
More Information about this Workshop
This course is currently being offered in the following cities:
Phoenix - 5 & 6 August 2004

Milwaukee - 16 & 17 September 2004

Los Angeles - 23 & 24 September 2004

Atlanta - 21 & 22 October 2004

Dallas - 28 & 29 October 2004

Denver - 4 & 5 November 2004

Columbus - 9 & 10 December 2004

Seattle - 16 & 17 December 2004
Other Training Courses & Seminars
Browse for training courses, seminars, web-seminars and workshops offered by various training organizations, product manufacturers and suppliers in industrial automation, process control and instrumentation. For information on specific training courses and seminars, please use the following links:
Trade Publications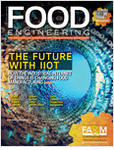 Qualify for Your Free Subscription!
Written exclusively for the manufacturing team in the food and beverage process industry. Food Engineering brings full coverage on flexible manufacturing, advanced information exchange, and the changing role of the food engineer. The articles are a blend of processing technology updates, worldwide food manufacturing trends, and case histories on successful in-plant applications.
Geographic Eligibility: USA, Canada, Mexico
Publisher: BNP Media
Subscribe to Food Engineering Magazine
Other Free Trade Publication Subscriptions
As a valued Automationtechies.com member, we would like to extend the opportunity to receive leading industry publications.
Browse from the list of titles and be sure to check back often for new titles.
Automation Auctions
eBay hosts over 4000 auctions for industrial automation and control products. From PLCs to sensors and from motor controls to robotics...Now you can browse new, used and surplus automation and control products right from Automationtechies.com. We added a new page in the "Classifieds" section of our web site called eBay Listings.
Use the links below to browse auctions and classified ads by product category:
On a Humorous Note...
Why some companies can't seem to turn it around
Automationtechies.com Advertising Opportunities - Generate leads and promote your company and products with one of the fastest growing industrial automation and control communities on the web. Review our Media Kit or Contact Rick Zabel.
Article & White Paper Publication - To have your industry-related articles or white papers published on Automationtechies.com, please Contact Rick Zabel for more information.
News Release Publication - To have your company or product news published on Automationtechies.com, please send your press releases to press@automationtechies.com.
Job Posting - Post your job openings on Automationtechies.com and find out why we're the industry's preferred resource for posting automation, process control and instrumentation job opportunities. Post Your Job.
Direct-hire Recruiting - Our industry experts will seek out and pre-screen the top performers. If your resources are limited or if time is a factor, we'll find the talent you need. Contact Alan Carty today for more information at 1-877-300-6792 or Send a message
Contract Recruiting, Employer of Record Services - Need engineers, programmers, or technicians, but can't hire full-time employees? Consider contract employees! Let us handle your administrative headaches including Employer of Record, payroll, and other functions. Find a Contract Employee
- What kind of articles would you like to see?
- What content additions would you like to see on our website?
- What would you like to know about other members?
- Suggest a new poll question.
- Are there any other services you think we should offer?
If you have any feedback, please send me a message.
I hope you enjoyed this e-news update!
Rick Zabel
Vice President
6455 City West Parkway
Eden Prairie, MN 55344
Phone: 952-563-5444
Fax: 952-563-5449