View this Automationtechies.com e-News online at http://www.automation.com/enews/2004-08-11.htm
Home | About Us | Media Kit | Contact Us
e-News
Daily News Headlines | Product Showcase | Suppliers/Manufacturers | Systems Integrators | Resources & Tools | Career & Job Center | Classifieds | Events
August 11, 2004 - Volume V, Issue 29
(Published almost every week)
*Please forward this e-news to a colleague *Subscribe to future issues *Read past issues
In this Issue
Our Sponsor
Introduction: From One Techie to Another
Discover New Auto-ID & Mobility Technologies at Frontline 2004
September 13 -15, 2004 - Navy Pier - Chicago, IL
The Frontline Solutions Conference & Exposition is the largest gathering of the world's leading Auto-ID, RFID, and mobility experts! This technical industry forum is the only event that provides the latest automatic identification and supply chain mobility solutions, technology focused education, and networking opportunities - in one place, at one time.
It is not about mandates--it is about real solutions integrated within your existing supply chains to make them smarter, better, and faster. Only Frontline covers it all!
Register Today at www.frontlineexpo.com or call 877-232-0132!
Use Priority Code 319H to register.
Featured Article: OPC Consideration for Network Security
Resource CD: Siemens Automation and Drives Interactive CD Catalog
Featured Products: AutomationDirect Wire Management Systems | CitectIIM Industrial Information Management
Featured Jobs: New Job Opportunities
Free Subscription: Electronic Products Magazine
For Sale: New Auctions & Classifieds
Fun Stuff: Dilbert Pick of the Week
Our featured article this week, OPC Consideration for Network Security, was written by Donovan Tindall of Matrikon. Cyber security is a very serious issue for both IT and Automation Groups. Unfortunately, often times when IT implements network security measures, the effects on real-time control systems are not considered. The article discusses how network security, firewalls and different Window Domains affect DCOM communications and ultimately OPC traffic for real-time control systems.
In this issue, we're also featuring the Siemens Automation and Drives Interactive CD Catalog, packed full of comprehensive product and application information for your automation, process, safety, drive and power systems.
Our Featured Products this issue are the new Wire Management System offered by AutomationDirect and Citect's Industrial Information Management Software.
IDC Technologies is offering a workshop on the Fundamentals of OPC (OLE for Process Control) at various cities throughout the US. Check out the information below for workshop locations, dates, and cost.
And, as usual, don't forget to review the Product Announcements, Company News and Job Postings added to our site in the last week.
On to the good stuff...Enjoy the rest of this e-news!
Featured Article
OPC Consideration for Network Security
Cyber security means the confidentiality, integrity, and availability of computers, applications, and digital-based assets. In most organizations, this is the responsibility of the corporate IT group. Unfortunately, whenever IT meets real-time control systems, trouble erupts. So when IT implements different Windows Domains and Firewalls, the first casualty is typically DCOM communication and, consequently, OPC traffic.
Read full article by Matrikon
Other articles and white papers on various automation topics
Other application stories using various automation products
News
News Headlines in Automation, Process Control & Instrumentation
Hear all about it! We publish industry news on our site as soon as we hear about it. Check out our Daily News Headlines page frequently to stay up-to-date on the industry events. Here are news headlines since our last e-news. Use the following links to read the complete news release:
These are just a few of the news items published on our website. Our Automation News section provides you up-to-date news of what is happening with product and services suppliers in the industry. Users can search for releases by company or by date. View Daily News Headlines Here. Send your automation news releases to press@automationtechies.com. Please provide press releases in electronic format (pictures can be provided in .JPG or .GIF format).
Application Tools, Guides, Demos & Literature
Siemens Automation and Drives Interactive CD Catalog
The interactive catalog of Siemens Automation and Drives Business gives you information on more than 80,000 products and systems used for industrial automation and control. This intuitive directory provides overview, application, design, technical, and ordering information on a wide range of product categories, including:
Request your Siemens Interactive CD
Other available application tools
Other available product catalogs
AutomationDirect Wire Management Systems offer rigid and flexible wiring ducts and accessories.
More Information on AutomationDirect Wire Management System
Request Product Reference Catalog
Increase performance, efficiency and profitability in real time with CitectIIM Industrial Information Management.
More Information on CitectIIM Industrial Information Management
Other Featured Products for August
New Jobs Posted on Automationtechies.com
Here's a list of new job opportunities posted on Automationtechies.com since our last newsletter:
To view other recent job postings, please use our Job Search Function.
Training & Seminars
Fundamentals of OPC (OLE for Process Control)
If you are using any form of automation or communication system or you are applying PCs/PLCs/SCADA Systems, then this workshop will give you the essential tools in working with OPC. If you are serious about reducing your costs of installing and maintaining your automation systems you need to use OPC. The latest trends and future developments with OPC in the USA and Europe will be detailed. The cost for this one-day workshop is $595.00 US. This course is currently being offered in the following cities:
Milwaukee - 15 September 2004

Los Angeles - 22 September 2004

Atlanta - 20 October 2004

Dallas - 27 October 2004

Denver - 3 November 2004

Columbus - 8 December 2004

Seattle - 15 December 2004
More Information about this Workshop
Other Training Courses & Seminars
Browse for training courses, seminars, web-seminars and workshops offered by various training organizations, product manufacturers and suppliers in industrial automation, process control and instrumentation. For information on specific training courses and seminars, please use the following links:
Trade Publications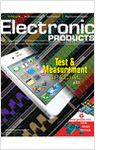 Qualify for Your Free Subscription!
Electronic Products reports on important developments in products and product technology. Its editorial serves as a key information source for engineers and managers. Electronic Products focuses on the new product and product technology needs of engineers designing today's electronic equipment and systems. From cover to cover, month after month, we provide the relevant, timely product and product technology information today's engineers need to make informed buying decisions.
Geographic Eligibility: USA
Publisher: Hearst Business Media
Subscribe to Electronic Products
Other Free Trade Publication Subscriptions
As a valued Automationtechies.com member, we would like to extend the opportunity to receive leading industry publications.
Browse from the list of titles and be sure to check back often for new titles.
Automation Auctions
eBay hosts over 4000 auctions for industrial automation and control products. From PLCs to sensors and from motor controls to robotics...Now you can browse new, used and surplus automation and control products right from Automationtechies.com. We added a new page in the "Classifieds" section of our web site called eBay Listings.
Use the links below to browse auctions and classified ads by product category:
On a Humorous Note...
Automationtechies.com Advertising Opportunities - Generate leads and promote your company and products with one of the fastest growing industrial automation and control communities on the web. Review our Media Kit or Contact Rick Zabel.
Article & White Paper Publication - To have your industry-related articles or white papers published on Automationtechies.com, please Contact Rick Zabel for more information.
News Release Publication - To have your company or product news published on Automationtechies.com, please send your press releases to press@automationtechies.com.
Job Posting - Post your job openings on Automationtechies.com and find out why we're the industry's preferred resource for posting automation, process control and instrumentation job opportunities. Post Your Job.
Direct-hire Recruiting - Our industry experts will seek out and pre-screen the top performers. If your resources are limited or if time is a factor, we'll find the talent you need. Contact Alan Carty today for more information at 1-877-300-6792 or Send a message
Contract Recruiting, Employer of Record Services - Need engineers, programmers, or technicians, but can't hire full-time employees? Consider contract employees! Let us handle your administrative headaches including Employer of Record, payroll, and other functions. Find a Contract Employee
- What kind of articles would you like to see?
- What content additions would you like to see on our website?
- What would you like to know about other members?
- Suggest a new poll question.
- Are there any other services you think we should offer?
If you have any feedback, please send me a message.
I hope you enjoyed this e-news update!
Rick Zabel
Vice President
6455 City West Parkway
Eden Prairie, MN 55344
Phone: 952-563-5444
Fax: 952-563-5449