View this Automationtechies.com e-News online at http://www.automation.com/enews/2004-08-25.htm
Home | About Us | Media Kit | Contact Us
e-News
Daily News Headlines | Product Showcase | Suppliers/Manufacturers | Systems Integrators | Resources & Tools | Career & Job Center | Classifieds | Events
August 25, 2004 - Volume V, Issue 31
(Published almost every week)
*Please forward this e-news to a colleague *Subscribe to future issues *Read past issues
In this Issue
Our Sponsor
Introduction: From One Techie to Another
Why do the world's leading manufacturers trust Siemens to be their automation partner? Because Siemens is delivering the value they need.
Shortened Time to Market

Reduced Engineering Costs

Improved Quality & Productivity
Whether your needs are for select products to supplement your installed base or for a complete automation system, SIMATIC products from Siemens can help.
Click here to review our website or Request a CD version of our electronic catalog
Featured Article: Wireless for M2M Industrial Control - I can get to the data, now what?
Literature: Airborne™ Wireless LAN Product Catalog
Featured Products: AirborneDirect™ Serial LAN | Pushbuttons, Pilot Lights, Switches & E-Stops
Featured Jobs: New Job Opportunities
Training: Essential Controls & Automation Courses
Free Subscription: Vision Systems Design Magazine
For Sale: New Auctions & Classifieds
Fun Stuff: Dilbert Pick of the Week
Our featured article this week, Wireless for M2M Industrial Control - I can get to the data, now what?, was written by DPAC Technologies. The article discusses wired vs. wireless networks and the three basic network architectures. Each of these architectures has distinct advantages and the best architecture for your application will depend on how the data is to be used.
Next month, Citect is hosting a one-day conference in three different cities: Elmhurst, NY; Columbus, OH and Houston, TX. The conference will focus on current and emerging trends in SCADA Technology and innovations in the performance and management of business. During the conference, Citect will introduce the features, benefits and application of CitectSCADA and CitectIIM (Industrial Information Management). For more information or to register for this conference please visit www.citect.com/events/conf_americas.
In this issue, we're also featuring the Airborne™ Wireless LAN Product Catalog with product information on a line of 802.11b wireless LAN modules.
Our Featured Products this issue are the new AirborneDirect™ Serial LAN from DPAC Technologies and ASI's complete line of Pushbuttons, Pilot Lights, Switches & E-Stops.
Our training partner, AIT, has just released their fall schedule of Controls/Motors, PLC, Instrumentation, Motion and Analyzer courses. If you or anyone else at your facility needs training, be sure to check out these Essential Courses.
And, as usual, don't forget to review the Product Announcements, Company News and Job Postings added to our site in the last week.
On to the good stuff...Enjoy the rest of this e-news!
Featured Article
Wireless for M2M Industrial Control - I can get to the data, now what?
Technologies that enable factory and sensor equipment to connect to the network typically focus on connecting equipment "A" to workstation "B" over network "C". That's all fine and well if, at the end of the day, the data gets used. Given the range, cost and installation issues, Wi-Fi (802.11b) is often the best choice for connecting equipment and sensors to a network.
Read full article (PDF) by DPAC Technologies
Other articles and white papers on various automation topics
Other application stories using various automation products
News
News Headlines in Automation, Process Control & Instrumentation
Hear all about it! We publish industry news on our site as soon as we hear about it. Check out our Daily News Headlines page frequently to stay up-to-date on the industry events. Here are news headlines since our last e-news. Use the following links to read the complete news release:
These are just a few of the news items published on our website. Our Automation News section provides you up-to-date news of what is happening with product and services suppliers in the industry. Users can search for releases by company or by date. View Daily News Headlines Here. Send your automation news releases to press@automationtechies.com. Please provide press releases in electronic format (pictures can be provided in .JPG or .GIF format).
Application Tools, Guides, Demos & Literature
Airborne™ Wireless LAN Product Catalog
Airborne™ is a line of highly integrated 802.11b modules offered by DPAC Technologies®. The wireless module includes a radio, a base-band processor, an application processor, and software for a "drop-in" web-enabled WiFi solution. In addition, the AirborneDirect™ product family provides "plug-and-play" LAN and Internet connectivity to the installed-base of industrial OEM applications that have an existing Serial or Ethernet communications interface. Since there's no need to develop the software, or to develop the RF and communications expertise in-house, OEMs can realize reduced product development costs and a quick time-to-market. Airborne™ modules provide instant LAN and Internet connectivity and connect through standard serial interfaces to a wide variety of applications.
Request Airborne™ Product Catalog
Other available application tools
Other available product catalogs
AirborneDirect™ Serial LAN enables plug-and-play wireless LAN connectivity using RS232, RS422, or RS485.
More Information on AirborneDirect Serial LAN
ASI Pushbuttons, Pilot Lights, Switches & E-Stops offer high quality and innovative features at a great price.
More Information on ASI Components
Other Featured Products for August
New Jobs Posted on Automationtechies.com
Here's a list of new job opportunities posted on Automationtechies.com since our last newsletter:
To view other recent job postings, please use our Job Search Function.
Training & Seminars
Essential Controls & Automation Courses
Our training partner, AIT, has just announced their fall schedule of training courses. The intention of these intensive programs is for the maintenance technician, electrician, mechanic, engineer and/or other plant personnel to walk away with an understanding of each topic. You will gain the knowledge and skill to immediately implement changes in your plant or factory. In these courses, you'll learn from industry experts, sharing knowledge and expertise on each course topic. You'll also get hands on practical experience at the lowest cost for one of the most intensive programs available. The following courses are being offered on the dates indicated at AIT's training center in West Berlin, NJ. For more information on each course, click on the course titles.
Click here to Download Course Outlines & Registration Form
Other Training Courses & Seminars
Browse for training courses, seminars, web-seminars and workshops offered by various training organizations, product manufacturers and suppliers in industrial automation, process control and instrumentation. For information on specific training courses and seminars, please use the following links:
Trade Publications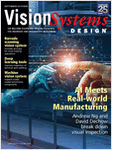 Vision Systems Design Magazine
Qualify for Your Free Subscription!
Vision Systems Design is a monthly magazine for engineers and engineering managers who research, design, develop, manufacture, and integrate components and subsystems for machine-vision systems and image-processing and analysis. The magazine covers the leading edge of the development and applications of vision and imaging systems. Vision Systems Design gives machine vision systems and image processing professionals their own magazine that focuses 100% on designing or integrating image-capture, processing, storage, transmission or output products for a wide range of scientific, medical industrial and military/aerospace applications.
Geographic Eligibility: USA, Canada, Mexico, Europe, Asia
Publisher: PennWell
Subscribe to Vision Systems Design
Other Free Trade Publication Subscriptions
As a valued Automationtechies.com member, we would like to extend the opportunity to receive leading industry publications.
Browse from the list of titles and be sure to check back often for new titles.
Automation Auctions
eBay hosts over 4000 auctions for industrial automation and control products. From PLCs to sensors and from motor controls to robotics...Now you can browse new, used and surplus automation and control products right from Automationtechies.com. We added a new page in the "Classifieds" section of our web site called eBay Listings.
Use the links below to browse auctions and classified ads by product category:
On a Humorous Note...
Automationtechies.com Advertising Opportunities - Generate leads and promote your company and products with one of the fastest growing industrial automation and control communities on the web. Review our Media Kit or Contact Rick Zabel.
Article & White Paper Publication - To have your industry-related articles or white papers published on Automationtechies.com, please Contact Rick Zabel for more information.
News Release Publication - To have your company or product news published on Automationtechies.com, please send your press releases to press@automationtechies.com.
Job Posting - Post your job openings on Automationtechies.com and find out why we're the industry's preferred resource for posting automation, process control and instrumentation job opportunities. Post Your Job.
Direct-hire Recruiting - Our industry experts will seek out and pre-screen the top performers. If your resources are limited or if time is a factor, we'll find the talent you need. Contact Alan Carty today for more information at 1-877-300-6792 or Send a message
Contract Recruiting, Employer of Record Services - Need engineers, programmers, or technicians, but can't hire full-time employees? Consider contract employees! Let us handle your administrative headaches including Employer of Record, payroll, and other functions. Find a Contract Employee
- What kind of articles would you like to see?
- What content additions would you like to see on our website?
- What would you like to know about other members?
- Suggest a new poll question.
- Are there any other services you think we should offer?
If you have any feedback, please send me a message.
I hope you enjoyed this e-news update!
Rick Zabel
Vice President
6455 City West Parkway
Eden Prairie, MN 55344
Phone: 952-563-5444
Fax: 952-563-5449