View this Automationtechies.com e-News online at http://www.automation.com/enews/2004-09-15.htm
Home | About Us | Media Kit | Contact Us
e-News
Daily News Headlines | Product Showcase | Suppliers/Manufacturers | Systems Integrators | Resources & Tools | Career & Job Center | Classifieds | Events
September 15, 2004 - Volume V, Issue 33
(Published almost every week)
*Please forward this e-news to a colleague *Subscribe to future issues *Read past issues
In this Issue
Our Sponsor
Introduction: From One Techie to Another
FREE Industrial Measurement and Control Brochure and Resource CD
The brochure provides information on how National Instruments hardware and software tools deliver advanced functionality and reliability for industrial applications such as embedded control, data logging, machine condition monitoring, industrial data acquisition, and industrial machine vision.
Click here to request a brochure and CD
Featured Article: 10 Benefits Adjustable-Speed AC Drives Provide to Industrial Users
Featured Article: Innovative Controller Concept for Production Machines
Resource CD: Flow Meter CD Catalog
Featured Products: SCALANCE Ethernet Family | CitectHMI | Fieldbus Box I/O Modules
Featured Jobs: New Job Opportunities
Free Subscription: Wireless Week Magazine
For Sale: New Auctions & Classifieds
Fun Stuff: Dilbert Pick of the Week
Our first featured article this week, 10 Benefits Adjustable-Speed AC Drives Provide to Industrial Users, was written by ABB Automation. According to ABB, a majority of installed motors are not controlled with drives. The article highlights 10 significant benefits for using adjustable speed drives on your motor applications. Our second featured article, Innovative Controller Concept for Production Machines, takes an in-depth look at Siemens new SIMOTION Controller and how it can ease the complexities of your production machines. You can also read other articles on various automation topics in the Resources & Tools section of our site, under Articles and White Papers.
In this issue, we're also featuring FloCat's Flow Meter Product CD with a wealth of product information and technical specifications for a number of flow metering applications.
Our Featured Products this issue are the new SCALANCE Family of Ethernet Products from Siemens, Citect's HMI Software - CitectHMI, and Beckhoff Automation's Fieldbus Box I/O Modules. If you haven't seen our other featured products for September, please be sure to review our Featured Product page.
In October, Beckhoff Automation is hosting an EtherCAT, Industrial Ethernet Technology Seminar in Minneapolis, Chicago, and Toronto. For more information, please refer to the training and seminars section of this e-newsletter.
And, as usual, don't forget to review the Product Announcements, Company News and Job Postings added to our site in the last week.
On to the good stuff...Enjoy the rest of this e-news!
Featured Articles
10 Benefits Adjustable-Speed AC Drives Provide to Industrial Users
Adjustable Speed Drives are used in any application in which there is mechanical equipment powered by motors; the drives provide extremely precise electrical motor control, so that motor speeds can be ramped up and down, and maintained, at speeds required; doing so utilizes only the energy required, rather than having a motor run at constant (fixed) speed and utilizing an excess of energy. Despite these benefits, the majority of motors continue to be operated without drives.
Read full article by ABB Automation's Low Voltage Drives Group.
Innovative Controller Concept for Production Machines
Are you faced with the need to automate a production machine?
Then you have a very challenging task ahead of you!
From the outside, your machine appears simple and straightforward enough.
But when you consider the functional requirements, your machine poses a real challenge.
Read full article by Josef Hammer, SIMOTION Product Manager at Siemens Energy & Automation
Other articles and white papers on various automation topics
Other application stories using various automation products
News
News Headlines in Automation, Process Control & Instrumentation
Hear all about it! We publish industry news on our site as soon as we hear about it. Check out our Daily News Headlines page frequently to stay up-to-date on the industry events. Here are news headlines since our last e-news. Use the following links to read the complete news release:
These are just a few of the news items published on our website. Our Automation News section provides you up-to-date news of what is happening with product and services suppliers in the industry. Users can search for releases by company or by date. View Daily News Headlines Here. Send your automation news releases to press@automationtechies.com. Please provide press releases in electronic format (pictures can be provided in .JPG or .GIF format).
Application Tools, Guides, Demos & Literature
The FloCat CD Catalog is information packed with thousands of flow measurement solutions. The CD catalog provides part numbers, product specifications, pricing and delivery information. Internet links are embedded to provide live access to the FloCat website where you can place an online order, seek additional technical support or view special promotions such as FREE gifts with purchase. The CD catalog includes the following flow-metering technologies:
Magnetic

Thermal Mass

Ultrasonic

Vortex Shedding

In-line Turbine and Paddle Wheel

Insertion Turbine and Paddle Wheel

Variable Area

Positive Displacement

Differential Pressure

Flow Switches
The CD catalog includes numerous models in each technology with a wide range of flow rates and pipe sizes to fit almost any application. In addition, FloCat offers compatible transmitters and readout devices for electronic integration. For each item, the CD catalog explains the technical features and specifications. Technical drawings, photographs, and compatibility charts help determine which item best fits an application.
Other available application tools
Other available product catalogs
Build an Ethernet infrastructure for your industrial application with Siemens SCALANCE™ Family.
More Information on Siemens SCALANCETM Ethernet Family
OEMs and SIs use CitectHMI to maximize RIO, gain competitive advantage and control costs.
Beckhoff Fieldbus Box I/O Modules are small, lightweight and ideal for wet, dirty and dusty environments.
More Information on Fieldbus Box I/O Modules
Other Featured Products for September
New Jobs Posted on Automationtechies.com
Here's a list of new job opportunities posted on Automationtechies.com since our last newsletter:
To view other recent job postings, please use our Job Search Function.
Training & Seminars
EtherCAT, Industrial Ethernet Technology Seminars
This October, Beckhoff, the developer of EtherCAT, will be holding no-charge, ½ day seminars in Minneapolis, Chicago and Toronto to explain the technical fundamentals and product availability of this new, award-winning network. Complimentary breakfast and lunch will be provided.
Topics to be covered include:
Introduction to Ethernet Communications

From the Office to the Shop Floor: Review of various real-time industrial Ethernet technologies (Profinet, Powerlink)

EtherCAT - Ethernet Control and Automation Technology

Why, When and How: Migration from fieldbus technologies to industrial Ethernet
Seminar dates and locations include:
October 6th, 2004: The Mall of America - Bloomington, MN (Minneapolis)

October 7th, 2004: Wyndham Northwest Chicago Hotel - Itasca, IL (Chicago)

October 8th, 2004: Park Plaza Toronto Airport Hotel - Toronto, ON
Click here for more information or to register for this seminar
Other Training Courses & Seminars
Browse for training courses, seminars, web-seminars and workshops offered by various training organizations, product manufacturers and suppliers in industrial automation, process control and instrumentation. For information on specific training courses and seminars, please use the following links:
Trade Publications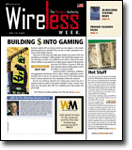 Qualify for Your Free Subscription!

Wireless Week -it's all you need to stay on top of the wireless marketplace. Wireless Week is the Wireless Authority. Its twice-monthly news magazine that follows wireless industry developments, offering in-depth analysis, perspectives and insights on trends. The articles encompass business, financial and technical developments related to service providers, retailing, networks, content, applications, and hardware. The second issue of the month includes the Wireless Internet Magazine super-section.

Geographic Eligibility: USA

Publisher:

Reed Business Information

Subscribe to Wireless Week Magazine

Other Free Trade Publication Subscriptions

As a valued Automationtechies.com member, we would like to extend the opportunity to receive leading industry publications.

Browse from the list of titles and be sure to check back often for new titles.
Automation Auctions
eBay hosts over 4000 auctions for industrial automation and control products. From PLCs to sensors and from motor controls to robotics...Now you can browse new, used and surplus automation and control products right from Automationtechies.com. We added a new page in the "Classifieds" section of our web site called eBay Listings.
Use the links below to browse auctions and classified ads by product category:
On a Humorous Note...
How project change requests get out of control
Automationtechies.com Advertising Opportunities - Generate leads and promote your company and products with one of the fastest growing industrial automation and control communities on the web. Review our Media Kit or Contact Rick Zabel.
Article & White Paper Publication - To have your industry-related articles or white papers published on Automationtechies.com, please Contact Rick Zabel for more information.
News Release Publication - To have your company or product news published on Automationtechies.com, please send your press releases to press@automationtechies.com.
Job Posting - Post your job openings on Automationtechies.com and find out why we're the industry's preferred resource for posting automation, process control and instrumentation job opportunities. Post Your Job.
Direct-hire Recruiting - Our industry experts will seek out and pre-screen the top performers. If your resources are limited or if time is a factor, we'll find the talent you need. Contact Alan Carty today for more information at 1-877-300-6792 or Send a message
Contract Recruiting, Employer of Record Services - Need engineers, programmers, or technicians, but can't hire full-time employees? Consider contract employees! Let us handle your administrative headaches including Employer of Record, payroll, and other functions. Find a Contract Employee
- What kind of articles would you like to see?
- What content additions would you like to see on our website?
- What would you like to know about other members?
- Suggest a new poll question.
- Are there any other services you think we should offer?
If you have any feedback, please send me a message.
I hope you enjoyed this e-news update!
Rick Zabel
Vice President
6455 City West Parkway
Eden Prairie, MN 55344
Phone: 952-563-5444
Fax: 952-563-5449