View this Automationtechies.com e-News online at http://www.automation.com/enews/2004-09-29.htm
Home | About Us | Media Kit | Contact Us
e-News
Daily News | Product Showcase | Suppliers/Manufacturers | Systems Integrators | Resources & Tools | Career & Job Center | Classifieds | Events
September 29, 2004 - Volume V, Issue 35
(Published almost every week)
*Please forward this e-news to a colleague *Subscribe to future issues *Read past issues
In this Issue
Our Sponsor
Introduction: From One Techie to Another
Improve your overall equipment efficiency (OEE) and increase production and profitability with real-time information throughout the enterprise with Citect.

Citect's high-quality, scalable IIM solutions deliver real-time access to plant and business information allowing key personnel to identify and act on opportunities to refine the workflow, maximize OEE, and to correct problems before they impact supply chain, regulation compliance and production. CitectIIM's non-invasive, modular approach leverages open technologies and complements existing automation and IT systems to typically deliver significant ROI in 6-12 months.
Click here for more information on CitectIIM
Featured Article: Web-Enabling Variable Frequency Drives
News: Product Announcements & Company News
Evaluation Software: EZTouch Operator Interface Software Demo CD
Featured Products: AC Current Transducer | EZ-Screen Safety Light Curtain | KB Series Limit Switch
Featured Jobs: New Job Opportunities
Free Subscription: Healthcare Packaging e-Publication
For Sale: New Auctions & Classifieds
Fun Stuff: Dilbert Pick of the Week
Well, I'm heading to Houston next week to attend ISA Expo 2004, so unfortunately there won't be an e-newsletter. My goal is to meet with some exhibitors and check out a few press conferences. In the October 13th issue, I hope to share my experiences as well as some new products released at ISA. Have a great week, and don't forget to visit our site next week for the latest news updates.
Our featured article this week, Web-Enabling Variable Frequency Drives, was written by Charles Forsgard of Schneider Electric. The article starts out by discussing the phases of evolution in drive networking, then focuses on the most recent phase of Ethernet connectivity of drives. With Ethernet, the level of control and amount of information available have improved significantly. On top of that, Web-enabled Ethernet takes getting and displaying drive information to a new level. Use the link below to read this complete article.
In this issue, we're also featuring EZTouch Software Demo CD. AutomationDirect's EZTouch Operator Interfaces have been installed in all kinds of applications and best of all, they are easy to use. If you're interested in learning more about their operator interfaces, just use the form to request your free CD.
Our Featured Products this issue are the new DIN-rail mount, split-core AC Current Transducer from LEM USA, Banner's EZ-Screen Safety Light Curtain, and ASI's extremely functional KB Series Limit Switch. If you haven't seen our other featured products for September, please be sure to review our Featured Product page.
And, as usual, don't forget to review the new Product Announcements, Company News, Application News and Job Postings added to our site in the last week.
On to the good stuff...Enjoy the rest of this e-news!
Featured Article
Web-Enabling Variable Frequency Drives
Over the past several years, the networking of drives has gone through several phases of evolution. Today, web-enabled Ethernet communications represents the latest, and most powerful, of all of these phases. The level of control and the amount of information available are significantly improved over earlier methods. Most importantly, with web-enabled Ethernet, the ease of both getting information and displaying it is on an entirely new level than was possible with older technologies.
Read full article by Schneider Electric.
Other articles and white papers on various automation topics
Other application stories using various automation products
News
News Headlines in Automation, Process Control & Instrumentation
Hear all about it! We publish industry news on our site as soon as we hear about it. Check out our Daily News Headlines page frequently to stay up-to-date on the industry events. Here are news headlines since our last e-news. Use the following links to read the complete news release:
These are just a few of the news items published on our website. Our Automation News section provides you up-to-date news of what is happening with product and services suppliers in the industry. Users can search for releases by company or by date. View Daily News Headlines Here. Send your automation news releases to press@automationtechies.com. Please provide press releases in electronic format (pictures can be provided in .JPG or .GIF format).
Application Tools, Guides, Demos & Literature
EZTouch Operator Interface Software Demo CD
AutomationDirect's EZTouch Operator Interface Panels are being deployed to rave reviews by those looking for ease-of-use in operator interfaces. Request this demo version of the programming software to see why they call it "EZTouch". This demo is fully functional, but cannot write to the panel.
Request your FREE EZTouch Demo CD
Other available application tools
Other available product catalogs
LEM's DIN rail mount, split-core AC Current Transducer based on PRIME® technology.
More Information on AC Current Transducer
Banner's rugged, compact EZ-Screen Safety Light Curtain sets the standard for ease of use and low cost.
More Information on EZ-Screen Safety Light Curtain
ASI KB Series Limit Switch is one of the most unique customer friendly switches on the market.
More Information on KB Series Limit Switch
Other Featured Products for September
New Jobs Posted on Automationtechies.com
Here's a list of new job opportunities posted on Automationtechies.com since our last newsletter:
To view other recent job postings, please use our Job Search Function.
Training & Seminars
Industrial Ethernet Control Seminar
WAGO Corporation is offering a free 3 day seminar on Industrial Ethernet Control. Attendees will receive an introduction to the WAGO-I/O-SYSTEM hardware, overview of Industrial Ethernet components and protocols, hands on IEC 61131-3 programming session with live demo nodes, and review/create web services or applications (such as alarm emails, web pages, etc. from the controller) using the new 750-841 Ethernet Programmable Controller. Time will be made available to discuss a variety of application examples, including any applications presented by the attendees. The seminar will be held October 25th - 27th, 2004 at their facility in Germantown, WI.
Click here for more information or to register
Other Training Courses & Seminars
Browse for training courses, seminars, web-seminars and workshops offered by various training organizations, product manufacturers and suppliers in industrial automation, process control and instrumentation. For information on specific training courses and seminars, please use the following links:
Trade Publications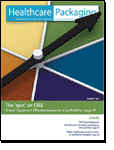 Healthcare Packaging e-Publication
Qualify for Your Free Subscription!
Healthcare Packaging is a digital-only publication designed to help pharmaceutical, nutraceutical and medical device packaging professionals take concrete steps to improve their operations. Focuses on best practices and offers step-by-step action plans for implementation. No scrolling, zooming, downloading required! Works with any computer. Delivered monthly to your e-mail in-box. A quick read -- 16 pages max. Contains no display advertising! Includes subscription to accompanying monthly e-newsletter for breaking news. Targeted subscribers: Professionals in production, engineering, manufacturing, compliance, purchasing or other capacities that influence the purchase of packaging machinery, materials or services.
Geographic Eligibility: USA, Canada
Publisher: Summit Media Company
Subscribe to Healthcare Packaging e-Publication
Other Free Trade Publication Subscriptions
As a valued Automationtechies.com subscriber, we would like to extend the opportunity to receive leading industry publications.
Browse from the list of titles and be sure to check back often for new titles.
Automation Auctions
eBay hosts over 4000 auctions for industrial automation and control products. From PLCs to sensors and from motor controls to robotics...Now you can browse new, used and surplus automation and control products right from Automationtechies.com. We added a new page in the "Classifieds" section of our web site called eBay Listings.
Use the links below to browse auctions and classified ads by product category:
On a Humorous Note...
Now there's a good reason for liposuction!
Automationtechies.com Advertising Opportunities - Generate leads and promote your company and products with one of the fastest growing industrial automation and control communities on the web. Review our Media Kit or Contact Rick Zabel.
Article & White Paper Publication - To have your industry-related articles or white papers published on Automationtechies.com, please Contact Rick Zabel for more information.
News Release Publication - To have your company or product news published on Automationtechies.com, please send your press releases to press@automationtechies.com.
Job Posting - Post your job openings on Automationtechies.com and find out why we're the industry's preferred resource for posting automation, process control and instrumentation job opportunities. Post Your Job.
Direct-hire Recruiting - Our industry experts will seek out and pre-screen the top performers. If your resources are limited or if time is a factor, we'll find the talent you need. Contact Alan Carty today for more information at 1-877-300-6792 or Send a message
Contract Recruiting, Employer of Record Services - Need engineers, programmers, or technicians, but can't hire full-time employees? Consider contract employees! Let us handle your administrative headaches including Employer of Record, payroll, and other functions. Find a Contract Employee
- What kind of articles would you like to see?
- What content additions would you like to see on our website?
- What would you like to know about other members?
- Suggest a new poll question.
- Are there any other services you think we should offer?
If you have any feedback, please send me a message.
I hope you enjoyed this e-news update!
Rick Zabel
Vice President
6455 City West Parkway
Eden Prairie, MN 55344
Phone: 952-563-5444
Fax: 952-563-5449