View this Automationtechies.com e-News online at http://www.automation.com/enews/2004-10-13.htm
Home | About Us | Media Kit | Contact Us
e-News
Daily News | Product Showcase | Suppliers/Manufacturers | Systems Integrators | Resources & Tools | Career & Job Center | Classifieds | Events
October 13, 2004 - Volume V, Issue 36
(Published almost every week)
*Please forward this e-news to a colleague *Subscribe to future issues *Read past issues
In this Issue
Our Sponsor
Introduction: From One Techie to Another
The Mini-VersaTRAK mIPm (mini-IPm) is a truly open RTU that fits in the palm of your hand.

The Mini-IPm comes fully integrated with:
Built-in mix of analog and discrete I/O

Ethernet and four serial ports

Stand alone control of remote sites

Flexible Open-source LINUX software

Datalogging & timestamping

20-year support & service policy

Advanced security capabilities

Supports SNMP, DNP3, HART, PPP & more

UL, CSA, CE, DNV, & Zone 2 rated

-40 to +70 °C operating temperature
For more information or a FREE product CD, visit www.sixnetio.com
Featured Article: Intelligent Sensors Enable Companies to Start a Predictive Maintenance Program Without Expert Vibration Knowledge
News: Product Announcements & Company News
Product Resource CD: Endress+Hauser Product Literature CD-ROM
Featured Products: Integrated Visualization/Historian | CompactRIO System | Fiberglass NEMA Enclosures | Twin Temperature & Pressure Switches
Featured Jobs: New Job Opportunities
Seminars: Endress+Hauser Measurement Technology Seminars- Fall 2004
Free Subscription: Embedded Systems Programming Magazine
For Sale: New Auctions & Classifieds
Fun Stuff: Dilbert Pick of the Week
As many of you know, ISA EXPO 2004 was in Houston, TX last week. It was a three day event consisting of keynotes, special forums, technical conferences and exhibits. Although I haven't heard the final count of attendees yet, I expect it probably drew roughly the same number as last year. Attendance to these national shows just doesn't seem to be increasing. In reality, these national shows have become very regional due to rising travel costs, limited budgets and tight schedules. On the other hand, there were a lot more exhibitors this year...a good indicator that the automation market as a whole is becoming more stable.
In one respect, I dread going to these shows, because the days are very long and tiring, and they take me away from my family. But, I also really enjoy going because I have an opportunity to mingle with industry leaders, old friends, exhibitors, and web site visitors. I always hear positive feedback regarding our site and that alone makes the trip worthwhile! These shows have always been, and are still, an awesome networking opportunity! But, I predict that these shows will continue to evolve over time. In the future, as our audience continues to grow, I hope to become more involved with show organizers and help promote the continuation of these (or similar) networking events.
While at the show, I scurried to meet with as many exhibitors as possible. As I indicated in the last issue, my goal was to absorb as much new product information as possible and report back to you. Well, it was no easy task! Little did I know that many exhibitors would wait until this show to release a bunch of new products. So, here you have it. We created a page on our site dedicated to all the news from ISA. I'm sure we didn't cover everything, but I think you'll agree that we made a good attempt. Needless to say, we have a lot of news for you this week...and most of it you won't find published anywhere else. You can find it in the News Archive section of our site at News from ISA EXPO 2004. We included many of the releases in the Automation News section of this issue, but we couldn't include everything so be sure to review the News from ISA EXPO 2004 page on our site.
For me, a highlight of the show was a forum on "Debunking the Myths: The Good, the Bad, and the Future of Outsourcing". The moderator was Jim Pinto, JimPinto.com and the panelists included Walt Boyes, Editor of Control; Dick Morley, Inventor of the PLC and Angel Investor; and Tim Teegarden, Valpers Performance Partners. The opinions of this panel and the reality of outsourcing are not always popular topics. To paraphrase some comments from the forum, "Outsourcing is a reality, get over it!" and "You can't fight outsourcing just like you can't fight gravity". Most manufacturers today, including many product suppliers, are outsourcing at least some aspect of their businesses...some successfully, some not so successfully. The key is to not outsource the "crown jewels", according to Dick Morley, i.e. don't outsource your intellectual property. Yes, jobs have left this country, but who's to blame? Workers in other countries are hungry, workers in the US are not as hungry. A growing number of the US population is not interested in working in factories anymore. Oh and don't forget, as automation and controls engineers, it's our job to automate manufacturing and eliminate jobs. Plus, many communities are fighting to keep new factories out of their towns and cities. So, manufacturers are going where people are willing to work. Like I said, not so popular...but, it is a reality. Don't pass up an opportunity to listen or converse with Jim Pinto, Walt Boyes, Dick Morley or Jim Teegarden...you may just leave the conversation with a "nugget of information wealth". Warning: the conversation may keep you up at night thinking about "things".
On to the good stuff...Enjoy the rest of this e-news!
Our featured article this week, Intelligent Sensors Enable Companies to Start a Predictive Maintenance Program Without Expert Vibration Knowledge, was written by Matt Manwiller of ifm efector. The article describes how companies can begin their own predictive maintenance program without the need of costly experts and analysis. Use the link below to read this complete article.
In this issue, we're also featuring Endress+Hauser's New Product Literature CD with technical information on broad range of innovative instrumentation products including Level, Flow, Pressure, Temperature, Analysis, Data Acquisition, Data Loggers & Recorders, Digital Displays, System Components, Digital Communications Devices and Services. This new version of the Endress+Hauser's CD has an improved interface and simple keyword search function.
The Featured Products for October are up on the site. In this issue, we're featuring Siemens WinCC Integrated Visualization and Historian HMI product, National Instruments Compact Remote I/O product, AutomationDirect's new Fiberglass NEMA Enclosures and Endress+Hauser's new 'Twin' Electronic Pressure and Temperature Switches. If you haven't seen our other featured products for October, please be sure to review our Featured Product page.
And, as usual, don't forget to review the new Product Announcements, Company News, Application News and Job Postings added to our site in the last week.
Featured Article
Intelligent Sensors Enable Companies to Start a Predictive Maintenance Program Without Expert Vibration Knowledge
Historically, expert knowledge of vibration analysis was required to start and maintain a vibration-based predictive maintenance program. This white paper describes how using intelligent sensors can alleviate the need for vibration experts.
Read full article by ifm efector.
Other articles and white papers on various automation topics
Other application stories using various automation products
News
News Headlines in Automation, Process Control & Instrumentation
Hear all about it! We publish industry news on our site as soon as we hear about it. Check out our Daily News Headlines page frequently to stay up-to-date on the industry events. Here are the news headlines since our last e-news. Use the following links to read the complete news release:
These are just a few of the news items published on our website. Our Automation News section provides you up-to-date news of what is happening with product and services suppliers in the industry. Users can search for releases by company or by date. View Daily News Headlines Here. Send your automation news releases to press@automationtechies.com. Please provide press releases in electronic format (pictures can be provided in .JPG or .GIF format).
Application Tools, Guides, Demos & Literature
Endress+Hauser Product Literature CD-ROM
A new version of the Endress+Hauser Product Literature CD-ROM has just been released and is now available for use. The CD is an all-in-one resource to find technical information documents associated with a broad portfolio of innovative measurement products from the largest independent instrumentation company in the world. This new version of the Product Literature CD includes improvements that had been requested in the past, such as a streamlined user interface, and a simple keyword search feature. The products and technologies included on this CD for the process control industries are:
Level: Capacitance, Radar/TDR, Ultrasonic, Conductive, Vibronic, Mechanical, D/P, Inventory Management

Flow: Coriolis mass flow, Electromagnetic, Vortex, Ultrasonic Transit-Time, D/P, Open Channel

Pressure: Gauge, Absolute, D/P, switches

Temperature: Field Transmitters, Connection Head transmitters, DIN Rail transmitters, sensors, compact thermometers, switches

Analysis: pH, ORP, Conductivity, Chlorine, D.O., Nitrate, Turbidity, Ammonium, Phosphate, Silicate, Hardness, Sludge level

Data Acquisition, Data Loggers & Recorders: Digital recorders, paper chart recorders, Videographic recorders

Digital Displays, and System Components: Panel displays, field displays, power supplies, universal transmitters

Digital Communications Devices: Foundation Fieldbus, Profibus, HART, FDT, Fieldgate Internet comm. portals

Services Offering: Instrument Start-up, Calibration, Preventative Maintenance Agreements, Training, Instrument Management Solutions
Other available application tools
Other available product catalogs
Siemens Integrated Visualization / Historian Bridging the Gap between Control and the Business Environment.
More Information on Integrated HMI and Historian
NI's CompactRIO is a small rugged industrial control and acquisition system powered by reconfigurable I/O.
More Information on NI CompactRIO
Automation Direct Fiberglass NEMA Enclosures includes cabinets, junction & pushbutton boxes.
More Information on Fiberglass NEMA Enclosures
Endress+Hauser Ceraphant T and Thermophant T "twin" electronic pressure and temperature switches.
More Information on E+H Twin Pressure & Temperature Switches
Other Featured Products for October
New Jobs Posted on Automationtechies.com
Here's a list of new job opportunities posted on Automationtechies.com since our last newsletter:
To view other recent job postings, please use our Job Search Function.
Training & Seminars
Endress+Hauser Measurement Technology Seminars- Fall 2004
With three years of experience in providing technical seminars, Endress+Hauser continues to offer FREE, half-day technical seminars throughout many cities in the U.S. Seminars are designed to provide insight into the principles and theory behind a measurement technology. In the past three years, over 4,000 plant managers, maintenance personnel, engineers, consultants, specifiers, and project managers have attended one of the 190 seminars we have offered. Professional Development Hours (PDH) are awarded for each seminar. Upon completion of the seminar, each participant will receive a certificate indicating the PDH value of 3.5 hours.
The following fall sessions are planned, with each offering different topics to appeal to many different instrument users:
Inventory Management

Pressure and Temperature Instrumentation

Flow Measurement for the 21st Century

50 Years of Level Technology

Analytical Instrumentation
More information or register for an upcoming seminar
Other Training Courses & Seminars
Browse for training courses, seminars, web-seminars and workshops offered by various training organizations, product manufacturers and suppliers in industrial automation, process control and instrumentation. For information on specific training courses and seminars, please use the following links:
Trade Publications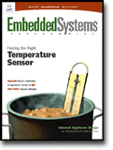 Embedded Systems Programming Magazine
Qualify for Your Free Subscription!
Embedded Systems Programming is a monthly magazine for engineers, programmers, and project leaders who build microcontroller and embedded microprocessor-based systems. The magazine's in-depth, technical articles are written by experts in the field and focus on practical ways for engineers to improve their hardware/software integration skills, software design, and optimization.
Geographic Eligibility: USA
Publisher: CMP Media LLC
Subscribe to Embedded Systems Programming
Other Free Trade Publication Subscriptions
As a valued Automationtechies.com subscriber, we would like to extend the opportunity to receive leading industry publications.
Browse from the list of titles and be sure to check back often for new titles.
Automation Auctions
eBay hosts over 4000 auctions for industrial automation, control and instrumentation products. From PLCs to sensors, from motor controls to robotics...Use the links below to browse new, used and surplus automation products by category:
On a Humorous Note...
I had a hard time picking just one Dilbert strip this week, so since we didn't do an e-newsletter last week, I decided to include two...
You can't win with poor management
Automationtechies.com Advertising Opportunities - Generate leads and promote your company and products with one of the fastest growing industrial automation and control communities on the web. Review our Media Kit or Contact Rick Zabel.
Article & White Paper Publication - To have your industry-related articles or white papers published on Automationtechies.com, please Contact Rick Zabel for more information.
News Release Publication - To have your company or product news published on Automationtechies.com, please send your press releases to press@automationtechies.com.
Job Posting - Post your job openings on Automationtechies.com and find out why we're the industry's preferred resource for posting automation, process control and instrumentation job opportunities. Post Your Job.
Direct-hire Recruiting - Our industry experts will seek out and pre-screen the top performers. If your resources are limited or if time is a factor, we'll find the talent you need. Contact Alan Carty today for more information at 1-877-300-6792 or Send a message
Contract Recruiting, Employer of Record Services - Need engineers, programmers, or technicians, but can't hire full-time employees? Consider contract employees! Let us handle your administrative headaches including Employer of Record, payroll, and other functions. Find a Contract Employee
- What kind of articles would you like to see?
- What content additions would you like to see on our website?
- What would you like to know about other members?
- Suggest a new poll question.
- Are there any other services you think we should offer?
If you have any feedback, please send me a message.
I hope you enjoyed this e-news update!
Rick Zabel
Vice President
6455 City West Parkway
Eden Prairie, MN 55344
Phone: 952-563-5444
Fax: 952-563-5449