Introduction: From One Techie to Another
AutomationDirect has introduced a line of Cutler-Hammer's Molded Case Circuit Breakers (MCCBs) that offers UL489 listed performance for branch circuit overcurrent protection and disconnecting means. The circuit breakers' small size saves panel space, compared to standard breakers or comparable fusible devices. The MCCBs use patented contact conductor designs featuring high-speed "blow-open" action that results in superior performance when high level fault currents produce extraordinary electromechanical forces. They also feature advanced arc extinguishing technology, and a toggle handle that provides three positions (on/off/tripped) along with visual indicators. Prices for the new line start at $139. A line of accessories is also available.
Learn more about the MCCB line at www.automationdirect.com/circuit_protection
or call (800) 633-0405 for further information.
I'm sorry this issue is a little late this week...I just got back last night from Automation Fair in Orlando, FL. Organized and hosted by Rockwell Automation, this educational forum and exposition attracted nearly 12,000 industry professionals. I spent yesterday visiting with representatives from Rockwell Automation and a number of their encompass partners so I could share all the new wares with you. Before next week's issue, we'll get all the new product announcements organized and added to the site. So, if you didn't get a chance to go to Automation Fair, stay tuned and you'll be able to read about the new products next week.
On to the good stuff...Enjoy the rest of this e-news!
Our featured article this week, Innovation in Level Measurement - End-of-Probe Algorithm, was written by Rob Vermeulen of Endress+ Hauser. Use the link below to read this complete article.
In this issue, we're also featuring the Machine Vision & Imaging Booklet & CD from National Instruments with product information, selection guides, and valuable Web resources to aid you in specifying and developing your inspection system.
Our Featured Products in this issue are Omron's F3G Safety Laser Scanner, Opto 22's Nvio Machine-to-Machine Portal, DPAC Technologies Airborne Direct™ Wireless Ethernet and DC Power Supplies from ASI. If you haven't seen our other featured products for October, please be sure to review our Featured Product page.
And, as usual, don't forget to review the new Product Announcements, Company News, Application News and Job Postings added to our site in the last week.
Featured Article
Innovation in Level Measurement - End-of-Probe Algorithm
New guided-wave radar technology has shown that an end-of-probe algorithm can be used to determine level even if there is no reflection coming back from the product surface itself. This product evolution enables users to achieve more reliable level measurement signals under the worst conditions.
Read full article by Endress+Hauser
Other articles and white papers on various automation topics
Other application stories using various automation products
News
News Headlines in Automation, Process Control & Instrumentation
Hear all about it! We publish industry news on our site as soon as we hear about it. Check out our Daily News Headlines page frequently to stay up-to-date on the industry events. Here are the news headlines since our last e-news. Use the following links to read the complete news release:
These are just a few of the news items published on our website. Our Automation News section provides you up-to-date news of what is happening with product and services suppliers in the industry. Users can search for releases by company or by date. View Daily News Headlines Here. Send your automation news releases to press@automationtechies.com. Please provide press releases in electronic format (pictures can be provided in .JPG or .GIF format).
Application Tools, Guides, Demos & Literature
Machine Vision & Imaging Booklet & CD
See how easy it is to create automated inspection applications. Request National Instruments Machine Vision and Scientific Imaging Booklet and CD today. This booklet covers popular software functions and how to apply them; product information and selection guides; and valuable Web resources to aid you in specifying and developing your inspection system. An evaluation copy of National Instruments industry-leading configurable vision software is included along with a brief tutorial.
Other available application tools
Other available product catalogs
Omron's NEW F3G Safety Laser Scanner covers 300 degrees and protects zones up to 6m and warns up to 7.5m.
More Information on F3G Safety Laser Scanner (PDF file)
Opto 22 Nvio is an all-inclusive portal-based system offering the quickest and easiest way to Machine-to-Machine applications.
More Information on Opto 22 Nvio M2M Portal
Airborne Direct™ Ethernet enables plug-and-play wireless LAN connectivity using 10BaseT Ethernet port.
More Information on AirborneDirect Ethernet
ASI's broad range of compact din-rail mounted modular switching DC Power Supplies.
More Information on ASI Power Supplies
Other Featured Products for October
New Jobs Posted on Automationtechies.com
Here's a list of new job opportunities posted since our last newsletter:
To view other recent job postings, please use our Job Search Function.
Training & Seminars
MatrikonOPC Level 2 Hands-On Workshop – OPC Diagnostics
For engineers, developers and product managers who are integrating and implementing OPC in new or current operations, and need to understand how to diagnose OPC issues such as DCOM; our OPC Level 2 hands-on workshops provide individuals with the knowledge, tools, and troubleshooting techniques needed to maximize the efficiency of OPC networks.

Unlike other OPC courses that lecture basic OPC theory, MatrikonOPC workshops provide an interactive, hands-on experience that focuses on building the end-user's ability to setup, manage and optimize an OPC network. Objectives include:
Diagnose and debug any OPC system

Understand the benefits of OPC and how it can be used to build efficient and flexible systems

Be empowered with an understanding of networking concepts and how they relate to OPC

Recognize, identify, and solve networking problems

Understand the inner workings of DCOM and how to configure it for OPC

Identify OPC Interoperability problems

Learn how to optimize OPC to maximize the performance and stability of a system

Learn troubleshooting techniques using free OPC utilities
More information or register for an upcoming workshop
Other Training Courses & Seminars
Browse for training courses, seminars, web-seminars and workshops offered by various training organizations, product manufacturers and suppliers in industrial automation, process control and instrumentation. For information on specific training courses and seminars, please use the following links:
Trade Publications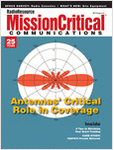 MissionCritical Communications Magazine
Qualify for Your Free Subscription!
MissionCritical Communications delivers wireless voice and data solutions for mobile and remote mission-critical operations. To explore innovative applications, integrate wireless data, scan industry news, compare equipment features, choose the right product for your workforce, stay ahead of regulatory issues and technology trends or source a new supplier, turn to MissionCritical Communications. We provide the information you need to improve your organization's operations through the efficient use of wireless communications.
Geographic Eligibility: USA, Canada
Publisher: Pandata Corp.
Subscribe to MissionCritical Communications
Other Free Trade Publication Subscriptions
As a valued Automationtechies.com subscriber, we would like to extend the opportunity to receive leading industry publications.
Browse from the list of titles and be sure to check back often for new titles.
Automation Auctions
eBay hosts over 4000 auctions for industrial automation, control and instrumentation products. From PLCs to sensors, from motor controls to robotics...Use the links below to browse new, used and surplus automation products by category:
On a Humorous Note...
Why more engineers should obtain the skills to manage technology companies
Automationtechies.com Advertising Opportunities - Generate leads and promote your company and products with one of the fastest growing industrial automation and control communities on the web. Review our Media Kit or Contact Rick Zabel.
Article & White Paper Publication - To have your industry-related articles or white papers published on Automationtechies.com, please Contact Rick Zabel for more information.
News Release Publication - To have your company or product news published on Automationtechies.com, please send your press releases to press@automationtechies.com.
Job Posting - Post your job openings on Automationtechies.com and find out why we're the industry's preferred resource for posting automation, process control and instrumentation job opportunities. Post Your Job.
Direct-hire Recruiting - Our industry experts will seek out and pre-screen the top performers. If your resources are limited or if time is a factor, we'll find the talent you need. Contact Alan Carty today for more information at 1-877-300-6792 or Send a message
Contract Recruiting, Employer of Record Services - Need engineers, programmers, or technicians, but can't hire full-time employees? Consider contract employees! Let us handle your administrative headaches including Employer of Record, payroll, and other functions. Find a Contract Employee
- What kind of articles would you like to see?
- What content additions would you like to see on our website?
- What would you like to know about other members?
- Suggest a new poll question.
- Are there any other services you think we should offer?
If you have any feedback, please send me a message.
I hope you enjoyed this e-news update!
Rick Zabel
Vice President
6455 City West Parkway
Eden Prairie, MN 55344
Phone: 952-563-5444
Fax: 952-563-5449