View this Automationtechies.com e-News online at http://www.automation.com/enews/2004-11-03.htm
Home | About Us | Media Kit | Contact Us
e-News
Daily News | Product Showcase | Suppliers/Manufacturers | Systems Integrators | Resources & Tools | Career & Job Center | Classifieds | Events
November 3, 2004 - Volume V, Issue 39
(Published almost every week)
*Please forward this e-news to a colleague *Subscribe to future issues *Read past issues
In this Issue
Our Sponsor
Introduction: From One Techie to Another
Reduce costs and save panel space with the new ST-MIX12884 high density combination I/O module. Used with a SIXNET RTU or Controller, it is a low cost, compact I/O solution that does the complete job:
12 DI, 8 DO, 8 AI and 4 AO

"Process quality" I/O with 16 bit analog

True hot swap capability in live systems

-40 to +70°C operating range
SIXNET has a wide variety of industrial I/O modules, with at least one to fill your exact needs. Whether you need a local, Ethernet, or RS485 connection, SIXNET has a solution for you.

For a FREE product CD, visit: www.sixnetio.com
Featured Article: On-MachineTM - On the Cutting Edge of Automation
News: Product Announcements & Company News
Demo Software: Integrated PC-Based Control System CD
Featured Products: CompactRIO | 2D Data Matrix Reader | Molded Case Circuit Breakers | Linear Servo Motors
Featured Jobs: New Job Opportunities
Free Subscription: Vision Systems Design Magazine
For Sale: New Auctions & Classifieds
Fun Stuff: Dilbert Pick of the Week
As I promised last week, we organized the news from last week's Automation Fair and created a site page with a list of news headlines at News from Automation Fair 2004. On this page, you'll notice the first few headlines focus on solutions that Rockwell Automation was presenting last week. Rockwell did a very nice job of presenting and documenting these solutions so we could share them with you. I'm sure we didn't include all of the possible news from last week on this page, but we did include the news that was made available to us by Rockwell and a number of their Encompass Partners. This list was too long to include every news item in our Automation News section below, so be sure to check out the News from Automation Fair 2004 page on the site.
On to the good stuff...Enjoy the rest of this e-news!
Our featured article this week, On-MachineTM - On the Cutting Edge of Automation, was provided by Rockwell Automation. The article discusses how locating control components, devices and other hardware closer to the application, and in many cases on the machine, will save time and money. Use the link below to read this complete article.
In this issue, we're also featuring the Integrated PC-Based Control System CD from Beckhoff Automation. This TwinCAT software CD allows you to turn any industrial computer into a high performance, flexible control system offering multi-axis PLC control, motion control and operator interface.
If you haven't seen the new featured products for November, please be sure to review our Featured Product page. Our Featured Products in this issue are National Instruments CompactRIO, Siemens 2D Data Matrix Reader, AutomationDirect's Molded Case Circuit Breakers and Linear Servo Motors from Beckhoff Automation.
And, as usual, don't forget to review the new Product Announcements, Company News, Application News and Job Postings added to our site in the last week.
Featured Article
On-MachineTM - On the Cutting Edge of Automation
With the current squeeze on capital investments, companies are searching for ways to lower the cost of installing and maintaining automation systems. As a means to this end, they're finding that moving industrial controls and hardware closer to the application or directly onto the machine saves considerable time and money. This paper examines the scope of On-Machine™ solutions, outlines the key benefits of this growing trend and highlights examples where a distributed, On-Machine architecture has been successful.
Read full article(PDF) by Rockwell Automation
Other articles and white papers on various automation topics
Other application stories using various automation products
News
News Headlines in Automation, Process Control & Instrumentation
Hear all about it! We publish industry news on our site as soon as we hear about it. Check out our Daily News Headlines page frequently to stay up-to-date on the industry events. Here are the news headlines since our last e-news. Use the following links to read the complete news release:
These are just a few of the news items published on our website. Our Automation News section provides you up-to-date news of what is happening with product and services suppliers in the industry. Users can search for releases by company or by date. View Daily News Headlines Here. Send your automation news releases to press@automationtechies.com. Please provide press releases in electronic format (pictures can be provided in .JPG or .GIF format).
Application Tools, Guides, Demos & Literature
Integrated PC-Based Control System CD
Beckhoff's TwinCAT Software System turns any compatible PC into a real-time controller with a multi-PLC system, NC axis control, programming environment and operating station. Complete your high performance, flexible control system with this purely software-based solution (IEC 61131-3) on an industrial PC with Windows NT/2000/XP operating system and your favorite open field-bus I/O.
Request your PC-Based Control System CD
Other available application tools
Other available product catalogs
NI's CompactRIO is a small rugged industrial control and acquisition system powered by reconfigurable I/O.
More Information on NI CompactRIO
Siemens introduces SIMATIC® VS130 – the complete solution for recording data matrix codes.
More Information on Siemens SIMATIC VS130
AutomationDirect Molded Case Circuit Breakers (MCCBs) offers UL489 for branch circuit overcurrent protection.
More Information on AutomationDirect Circuit Breakers
Beckhoff Automation's Linear Servo Motors for both high and low performance ranges without liquid cooling.
More Information on Beckhoff Linear Motors
Other Featured Products for November
New Jobs Posted on Automationtechies.com
Here's a list of new job opportunities posted since our last newsletter:
To view other recent job postings, please use our Job Search Function.
Training & Seminars
Machine Vision Training Seminars - On Demand
Learn basic techniques, as well as considerations and advanced tips for machine vision applications with National Instruments Web Events on Demand. Watch industry experts from Basler Vision Technologies, Edmund Industrial Optics, Graftek Imaging, Indigo Systems, and National Instruments present on lighting and optics, cameras, frame grabbers, vision systems, and software options as they relate to your assembly, packaging, and scientific imaging applications.
Other Training Courses & Seminars
Browse for training courses, seminars, web-seminars and workshops offered by various training organizations, product manufacturers and suppliers in industrial automation, process control and instrumentation. For information on specific training courses and seminars, please use the following links:
Trade Publications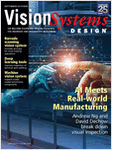 Vision Systems Design Magazine

Qualify for Your Free Subscription!

Vision Systems Design is a monthly magazine for engineers and engineering managers who research, design, develop, manufacture, and integrate components and subsystems for machine-vision systems and image-processing and analysis. The magazine covers the leading edge of the development and applications of vision and imaging systems. Vision Systems Design gives machine vision systems and image processing professionals their own magazine that focuses 100% on designing or integrating image-capture, processing, storage, transmission or output products for a wide range of scientific, medical industrial and military/aerospace applications.

Geographic Eligibility: USA, Canada, Mexico, Europe, Asia

Publisher:

Pennwell

Subscribe to Vision Systems Design

Other Free Trade Publication Subscriptions

As a valued Automationtechies.com subscriber, we would like to extend the opportunity to receive leading industry publications.

Browse from the list of titles and be sure to check back often for new titles.
Automation Auctions
eBay hosts over 4000 auctions for industrial automation, control and instrumentation products. From PLCs to sensors, from motor controls to robotics...Use the links below to browse new, used and surplus automation products by category:
On a Humorous Note...
I always wondered how some of those Vice Presidents got their jobs
Automationtechies.com Advertising Opportunities - Generate leads and promote your company and products with one of the fastest growing industrial automation and control communities on the web. Review our Media Kit or Contact Rick Zabel.
Article & White Paper Publication - To have your industry-related articles or white papers published on Automationtechies.com, please Contact Rick Zabel for more information.
News Release Publication - To have your company or product news published on Automationtechies.com, please send your press releases to press@automationtechies.com.
Job Posting - Post your job openings on Automationtechies.com and find out why we're the industry's preferred resource for posting automation, process control and instrumentation job opportunities. Post Your Job.
Direct-hire Recruiting - Our industry experts will seek out and pre-screen the top performers. If your resources are limited or if time is a factor, we'll find the talent you need. Contact Alan Carty today for more information at 1-877-300-6792 or Send a message
Contract Recruiting, Employer of Record Services - Need engineers, programmers, or technicians, but can't hire full-time employees? Consider contract employees! Let us handle your administrative headaches including Employer of Record, payroll, and other functions. Find a Contract Employee
- What kind of articles would you like to see?
- What content additions would you like to see on our website?
- What would you like to know about other members?
- Suggest a new poll question.
- Are there any other services you think we should offer?
If you have any feedback, please send me a message.
I hope you enjoyed this e-news update!
Rick Zabel
Vice President
6455 City West Parkway
Eden Prairie, MN 55344
Phone: 952-563-5444
Fax: 952-563-5449