Introduction: From One Techie to Another
"Twin" Switches for Pressure and Temperature Announced
Endress+Hauser announces the new Ceraphant T and Thermophant T "twin" electronic switches that are intended for applications in factory automation, machine tools, energy, as well as the traditional process industries of chemical, food and beverage, pharmaceutical, and water treatment.
Ceraphant T is an electronic switch designed for absolute and gauge pressure measurement, whereas Thermophant T is an electronic switch designed for temperature measurement in gases, vapors, and liquids.
Read more about these new switches
You may have noticed that we changed our logo on the site this week. You'll also notice the new logo in this issue of our e-newsletter. Along with this logo change, we are in the process of changing all the Automationtechies.com references on the site to Automation.com. We ask for your patience as we update our web site. As we convert the site, you may notice some broken links here and there...we will work to get these fixed as soon as possible. For those of you that may have missed our original Automation.com announcement, you can read about it at:
http://www.automation.com/store/pid12531.php
On to the good stuff...Enjoy the rest of this e-news!
Our featured article this week, The M2M (Machine-to-Machine) Revolution, was written by Jim Pinto. This is a great article that discusses how smart devices can and will be used in the future to open new doors for manufacturers and service providers in both the industrial and commercial sectors. Jim even goes so far as saying that those companies who don't take advantage of this technology will obsolete themselves...I'll buy that! Use the link below to read this complete article.
In this issue, we're also featuring the new 2005 Measurement & Automation Catalog from National Instruments, leading virtual instrumentation resource for engineers and scientists seeking the most productive customer-defined software and hardware tools.
Our Featured Products in this issue are Opto 22's SNAP OEM I/O, TTI Universal Panel Meter, DPAC Technologies Serial Wireless LAN, Banner Engineering's P4 Vision Sensor, and Control Relays from ASI. If you haven't seen the new featured products for November, please be sure to review our Featured Product page.
And, as usual, don't forget to review the new Product Announcements, Company News, Application News and Job Postings added to our site in the last week.
Featured Article
The M2M (Machine-to-Machine) Revolution
The convergence of smart devices with the Internet is creating a new inflection point. Huge opportunities are developing from the convergence of device networking, wireless sensors, machine-to-machine (M2M) communication, and the Internet. Companies that fail to exploit this next wave of the digital revolution will simply obsolete themselves.
Read full article by Jim Pinto.
Other articles written by Jim Pinto
Other articles and white papers on various automation topics
Other application stories using various automation products
News
News Headlines in Automation, Process Control & Instrumentation
Hear all about it! We publish industry news on our site as soon as we hear about it. Check out our Daily News Headlines page frequently to stay up-to-date on the industry events. Here are the news headlines since our last e-news. Use the following links to read the complete news release:
These are just a few of the news items published on our website. Our Automation News section provides you up-to-date news of what is happening with product and services suppliers in the industry. Users can search for releases by company or by date. View Daily News Headlines Here. Send your automation news releases to press@automation.com. Please provide press releases in electronic format (pictures can be provided in .JPG or .GIF format).
Application Tools, Guides, Demos & Literature
2005 Measurement & Automation Catalog
The National Instruments catalog is the leading virtual instrumentation resource for engineers and scientists seeking the most productive customer-defined software and hardware tools. You will find everything you need from new product information, comparison charts and key specifications.
Request your 2005 Measurement & Automation Catalog
Opto 22 SNAP OEM I/O is a platform for developing custom automation applications with SNAP I/OTM modules.
More Information on SNAP OEM I/O
TTI offers this new FD5000 Universal 1/8 DIN Panel Meter from Fuji Electric.
More Information on FD5000 Panel Meter
Airborne Direct™ Serial enables plug-and-play wireless LAN connectivity using RS232, RS422, or RS485.
More Information on AirborneDirect Wireless Serial Connectivity
Banner Engineering's low-cost P4 Vision Sensor performs 360° inspections with unprecedented ease-of-use.
More Information on P4 Vision Sensor
ASI's Control Relays are one of the smallest packages on the market with 4 pole, NO and NC contacts.
More Information on Control Relays
Other Featured Products for November
New Jobs Posted on Automation.com
Here's a list of new job opportunities posted since our last newsletter:
To view other recent job postings, please use our Job Search Function.
Training & Seminars
Basic Instrumentation & Process Control
This course prepares students for the ISA Certified Control Systems Technician (CCST Level 1) exam. This is a four-day course with day four dedicated to the student who desires to become ISA certified. There will be a review of all of the covered subjects, a question and answer session and a review of examination taking procedures. This will be followed by a final practice examination that will be graded and reviewed in detail. The course includes a detailed organized binder for easy reference.
This intensive course will cover the following topics:
Introduction to Instrumentation

P & ID Drawing Standards

Loop Diagrams

Pressure, Level, Temperature and Flow Control Valves

Troubleshooting

Digital Controllers

Advanced Process Control Techniques
More Information on this Course
Other Training Courses & Seminars
Browse for training courses, seminars, web-seminars and workshops offered by various training organizations, product manufacturers and suppliers in industrial automation, process control and instrumentation. For information on specific training courses and seminars, please use the following links:
Trade Publications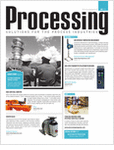 Qualify for Your Free Subscription!

Processing Magazine is recognized across the process industries as the leading source for up-to-date product and equipment solutions. The targeted audience is readers who purchase instrumentation, control systems, pumps, motors, compressors, valves, and other processing equipment.

Geographic Eligibility: USA, Canada

Publisher:

Putman Media

Subscribe to Processing Magazine

Other Free Trade Publication Subscriptions

As a valued Automation.com subscriber, we would like to extend the opportunity to receive leading industry publications.

Browse from the list of titles and be sure to check back often for new titles.
Automation Auctions
eBay hosts over 4000 auctions for industrial automation, control and instrumentation products. From PLCs to sensors, from motor controls to robotics...Use the links below to browse new, used and surplus automation products by category:
On a Humorous Note...
Looks like another product just like the cigarette...as revenue increases, so does the death toll.
Automation.com Advertising Opportunities - Generate leads and promote your company and products with the industry-leading industrial automation and control resource on the web. Review our Media Kit or Contact Rick Zabel.
Article, White Paper & Application Story Publication - To have your industry-related articles, white papers or application stories published on Automation.com, please Contact Rick Zabel for more information.
News Release Publication - To have your company or product news published on Automation.com, please send your press releases to press@automation.com.
Job Posting - Post your job openings on Automation.com and find out why we're the industry's preferred resource for posting automation, process control and instrumentation job opportunities. Post Your Job.
Direct-hire Recruiting - Our industry experts will seek out and pre-screen the top performers. If your resources are limited or if time is a factor, we'll find the talent you need. Contact Alan Carty today for more information at 1-877-300-6792 or Send a message
Contract Recruiting, Employer of Record Services - Need engineers, programmers, or technicians, but can't hire full-time employees? Consider contract employees! Let us handle your administrative headaches including Employer of Record, payroll, and other functions. Find a Contract Employee
- What kind of articles would you like to see?
- What content additions would you like to see on our website?
- What would you like to know about other members?
- Suggest a new poll question.
- Are there any other services you think we should offer?
If you have any feedback, please Contact Rick Zabel.
I hope you enjoyed this e-news update!
Rick Zabel
Vice President
6455 City West Parkway
Eden Prairie, MN 55344
Phone: 952-563-5444
Fax: 952-563-5449