Summary
Eight analog signal acquisition, isolated converter RS-485/232 output
WAYJUN WJ28 series products realize the signal acquisition between sensor and host, to measure analog signals. WJ28 products can be applied to RS-232/485 bus industrial automation control system,4-20mA / 0-5V signal measurement, monitoring and control,0-75mV ,0-100mV and other small-signal measurement and signal isolation and long-term industrial transmission and so on.
Features: >> Eight analog signal acquisition, isolated converter RS-485/232 output >> 24-bit AD converter, accuracy>0.05% >> 4-20mA/0-20mA current signal or 0-5V/0-10V voltage signal input >> RS-485/232 interface can be programmed calibration module accuracy >> Signal input / output:3000VDC isolation >> Wide supply range: 8 ~ 32VDC >> High reliability, easy programming, easy to apply >> Standard DIN35 rail mounting >> User-programmable settings module address, baud rate, etc. >> Support the Modbus RTU protocol >> Low cost, small size modular design Typical applications: >> signal measurement, monitoring and control >> RS-485 remote I / O, data acquisition >> application of intelligent building control, security engineering >> industrial automation control system, the RS-232/485 bus >> Industrial signal isolation and long-term transmission >> equipment operation and monitoring >> measurement of sensor signals >> the industrial data acquisition and recording >> medical, industrial and product development
Product List: WJ28 series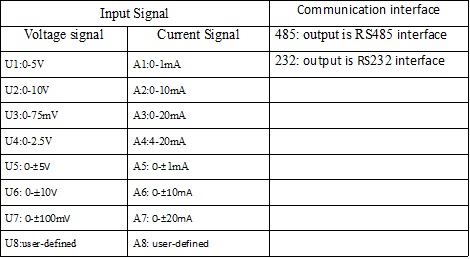 Samples: Part No.:WJ28-A4-485 means 8 channels 4-20mA input,ouput is RS485 interface Part No.:WJ28-U1-232 means 8 channels 0-5V input,output is RS232 interface Part No.:WJ28-U2-485 means 8 channels 0-10V input,output is RS485 interface
Learn More
---
Did you enjoy this great article?
Check out our free e-newsletters to read more great articles..
Subscribe
---